It was

Day 3

, and we began our day at the crack of dawn. We were to go to Disneyland L.A y'all! Remember

what I said last year

about going to Disneyland Paris? I wasn't looking forward to going at all because I was never a fan of Disney.

Did I enjoy it in the end? Saying that I enjoyed it tremendously would be an under statement. I enjoyed it more than just tremendously I wish I could LIVE there. Everything looked too unreal to be real. The places and buildings there looked so dreamy for a day all worries went away.

Although I've gone to Disneyland before, Z had to bring me to the one at Anaheim (Anaheim is located slightly over half-an-hour away from Hollywood, Los Angeles). Today, we rented a car that was a few streets away from our lodge.

We walked quickly to Enterprise car rental, where Z and Mark, the man who attended us, settled some T&C before showing our car. We rented the cheapest one they've got and that was a Chevy. After renting some extras, GPS and toddler car seat, we began our journey to Disneyland.

My eyes felt so heavy in the car I tried hard not to let my eyes take control of my mind. Z was to drive the car and he himself haven't had much sleep, it wouldn't be fair if I slept so I wanted to accompany him. I managed to. We talked, while our lil one slept.

Slightly over half-an-hour later and losing our direction while looking for their parking lots, we made it to Disneyland.

Even if I were to reject our plans to Disneyland today since I've been there before, Z would drag me there. His reason? This was the original one set up by Walt Disney himself, so he said,

"It's the was set up by WALT DISNEY HIMSELF

!

"

I suppose that's suppose to

mean

something.

Disneyland here is BIGGER and more confusing. I swear being in Disneyland Paris where everything was in French felt less confusing to me. The place was so huge I swear over my Disneyland pressed pennies that it was as huge as Singapore!

(K, I better not lie or my Disneyland pressed pennies will be gone!! It's probably as big as Sentosa.)
So let's take a journey to
the one, the only, the original
Disneyland Park
...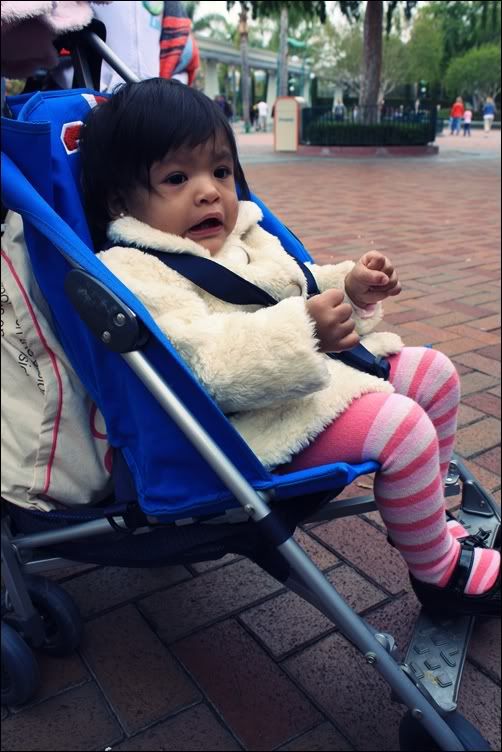 N wearing her mink jacket and a pair of thick cotton tights. Underneath that was a pair of mini skirt. But like the name says, her skirt's so MINIature you can't see it.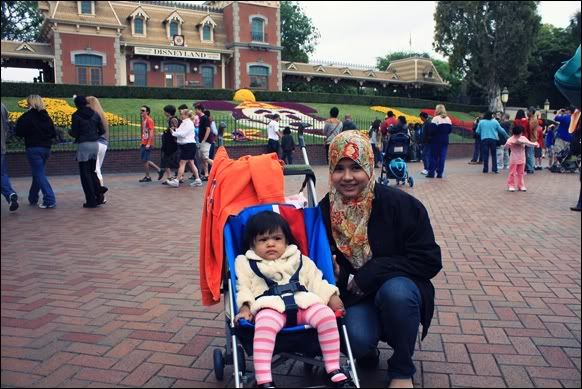 In front a building that say Disneyland
In case you're too POTEK to see it says, 'Here you leave today and enter the world of yesterday, tomorrow and fantasy.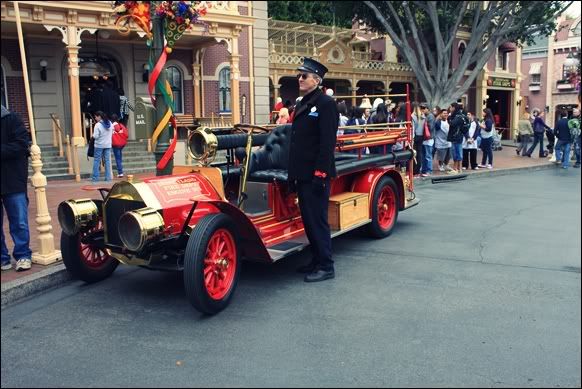 Firetruck that isn't used to go to sites where there's fire but a firetruck that brings passengers to Sleeping Beauty's Castle.
They've got a Fire Department there though.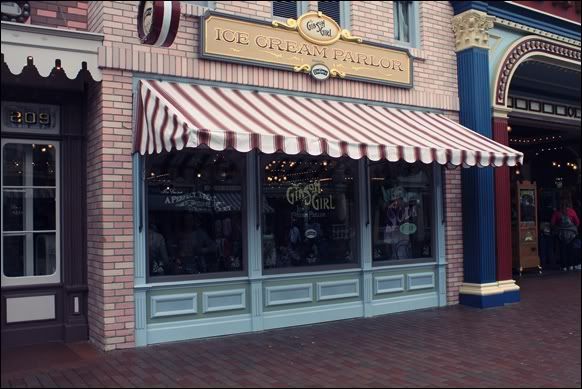 Ultra kawaii ice-cream parlor. All shops looks so good! Z told me that people said that's how New Orleans looks like.
Me don't know what that is.
Adventureland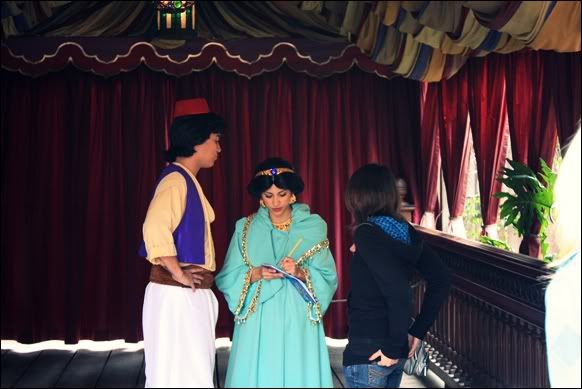 Aladdin and Princess Jasmine

Before we got here, I asked Z, "So who do they use as Aladdin and Jasmine? They're suppose to be Arabs." He replied, "Caucasians with a fake tan." When I saw them, I stared at them to confirm if he was right. I couldn't tell! They can pass off as real Arabs, keling also!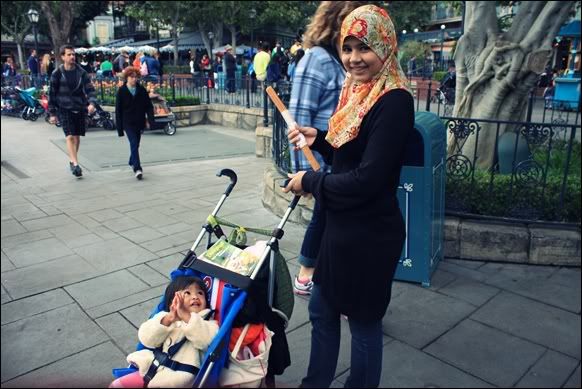 In my hand, my 1st churro of the day. It was SO yummy I had like maybe 10 throughout the 10 hours we were there. That's one every hour! Too good even N had them each time we did. Hers was 1/4 off ours though. She'd hold onto the churro close to her face and nibble it like a squirrel.
There used to be a shop that sold churro outside of Far East Plaza but it has closed for a long time already. I don't know if they've moved elsewhere or permanently closed. Till now I haven't found one. Last I had their churro was with Syah when the girls and I were out together.
You remember that day or not Syah?
Only CRAZY people will take such rides. I know it's a theme park where the rides are the main attraction but I'm not a person who like taking rides. Z must be disappointed to get someone not as daring, but I told him that it's not me to take rides. I'm not a big fan of rides.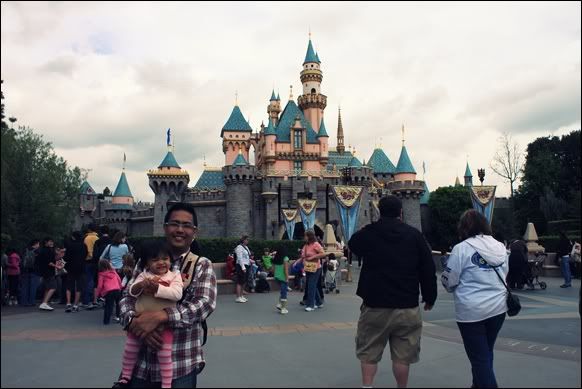 Papa and N in front Sleeping Beauty's Castle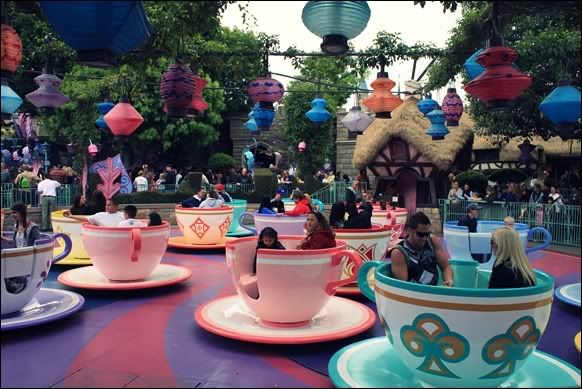 Spinning tea cups
That ride, the spinning tea cups, well, I wouldn't mind that. I took the JUMBO ride. Hehe. That's a kids ride where no heart pounding like it's about to be ripped off your chest action are involved.
*sings* It's a small world after all. It's a small world after all. It's a small world after all. It's a small, small world! *end song*
Lil cute squirrel nibbling on her churro. Messing up her face with sugar all over it. Only she can get away with such mess on her face without having people look at her strangely. In fact, it's adorable seeing kids all messed up!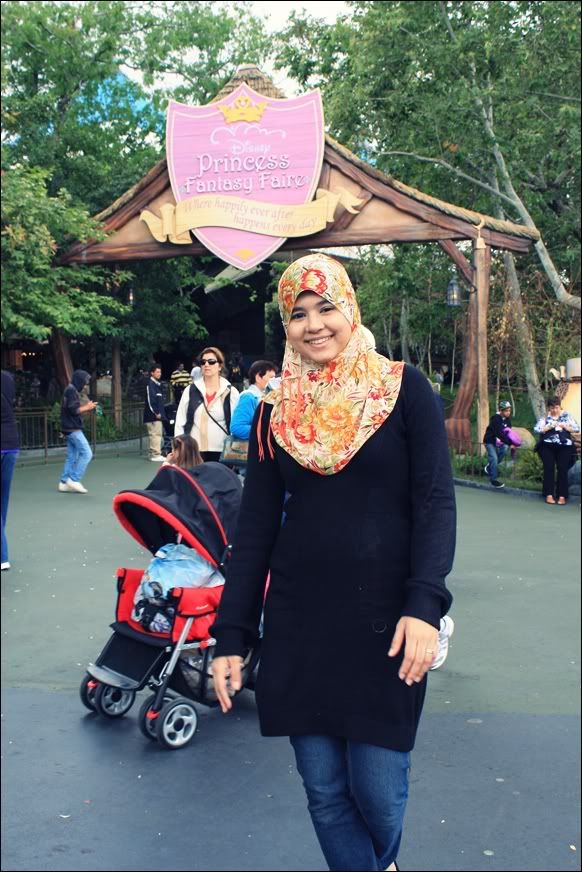 Princess Fantasy Faire. Like Adventureland, this is another section of the park where it's everything PRINCESS! Why does my left eye look half asleep?
Mickey's Toontown is another section
You know, I've come to a conclusion that people look better as they grow older but I just grow up looking worst than I was before.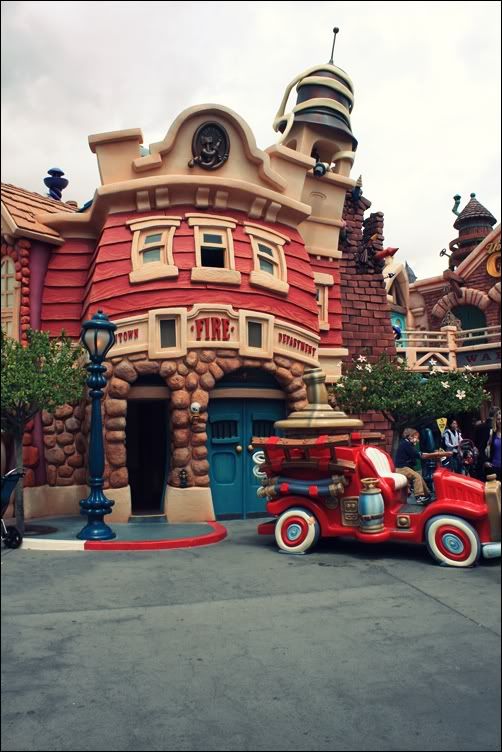 Which fire department looks better? The one above (at the beginning of the entry) or the one above?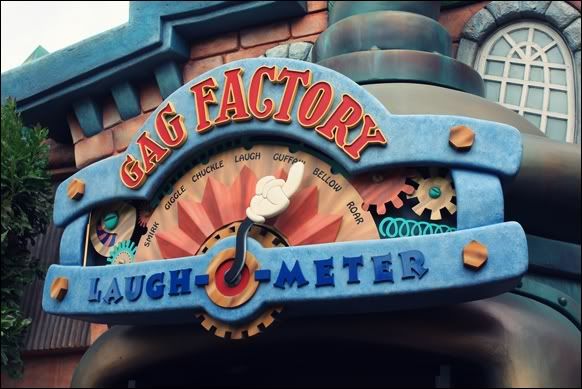 Just about to make a phone call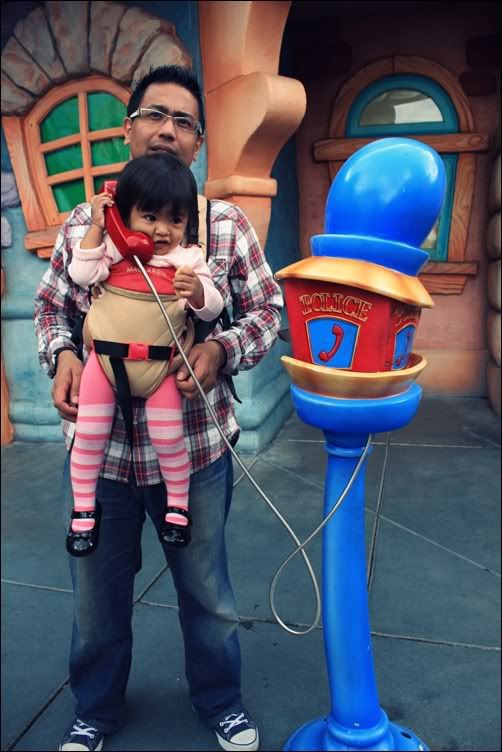 N calling Iya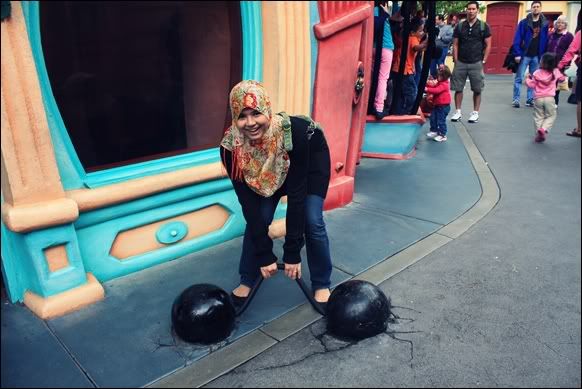 One tonne of weight there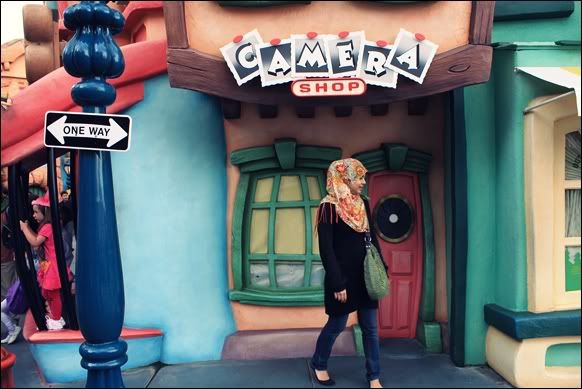 Wanted to buy a 50-200mm lens but no one answered when I rang
There really was a door bell for me to press where it'd go, "Buuzzzz!"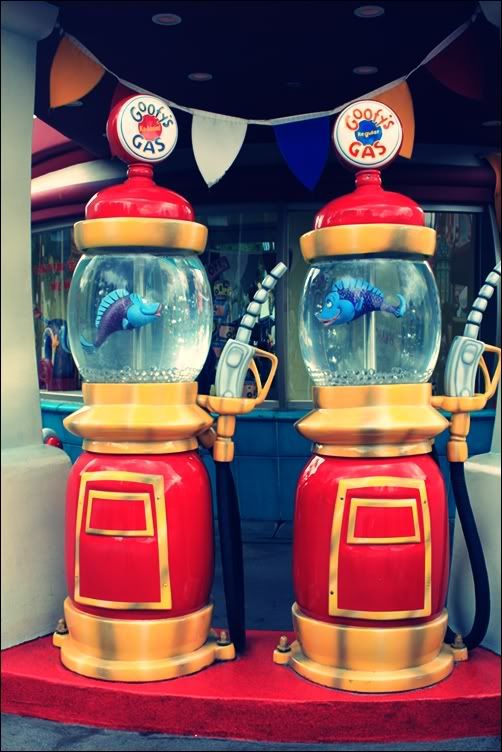 Pump some fish gas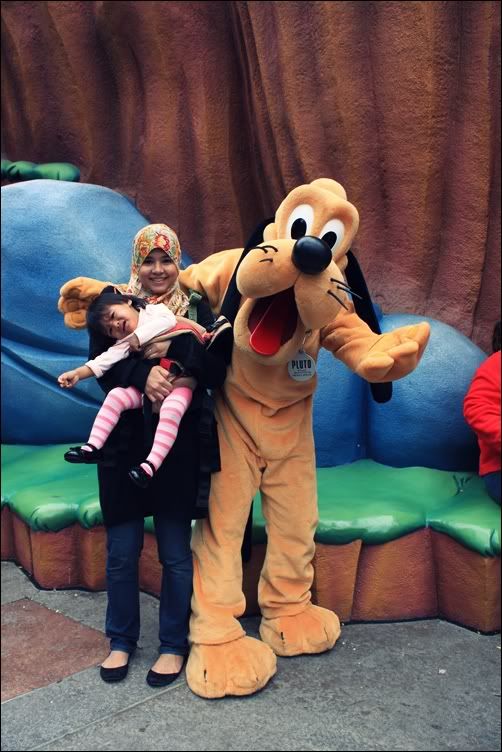 Last time
we met Donald Duck
. This time we met up with Pluto. Last time, N was alseep. This time, N was awake and VERY AFRAID.
Inside Mickey Mouse's house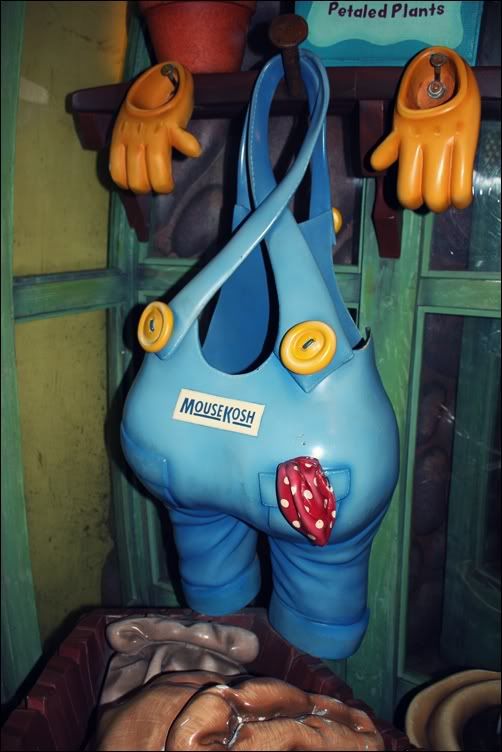 Cute or what
We were on our way to meet Mickey Mouse!
Meet Mickey Mouse
I left Mickey Mouse's house seeing the line to meet him has snaked around his house. When we were the end of the line, we began INSIDE the house. When we left, the line started from OUTSIDE the house! Phew.
Then I saw this cute pink house next to his. When I found out it was Minnie Mouse I was so angry at Z. I was like,
"I WOULD RATHER SEE MINNIE MOUSE. IT'S PINK!"
So he went,
"Ok baby. Then let's queue up."
I rolled my eyes and said,
"The line is so LONG. Don't want la."
Then, he made a sad face. Aww... I didn't scold him for real. We are both like that one.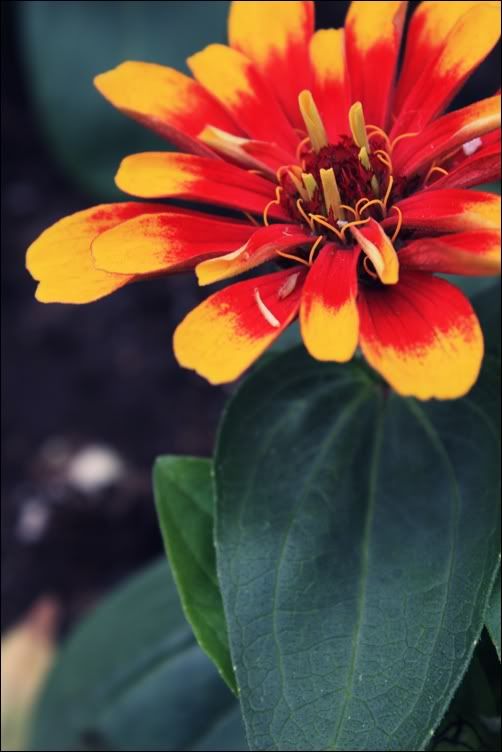 Flower I took while walking around the park. They had some nice looking flowers all over but none were as interesting as the ones above.
We walked around and we saw a lot of people seated outside of the walkway near Sleeping Beauty's Castle. We knew there was going to be a show so we sat down and waited for it to start. I was lucky enough to squeeze beside two couples and be standing behind a short child.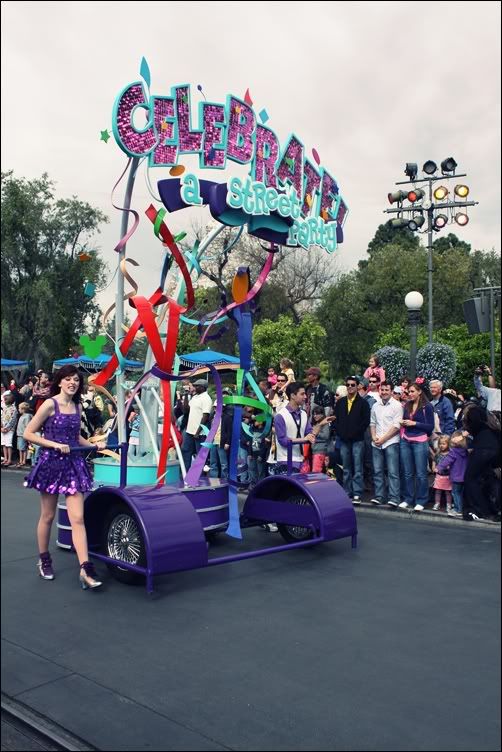 It was Disney's Anniversary (or something) so they've got this "party".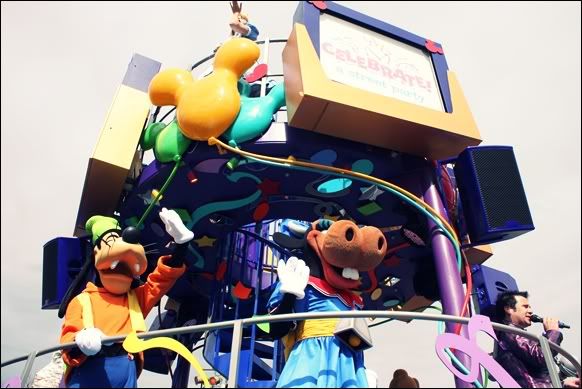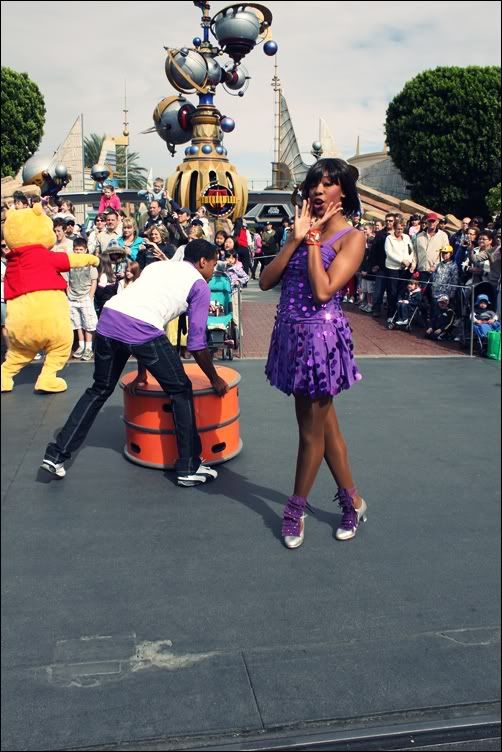 They had dancers and Z said out loud in Malay, "The dances are all on the plumper side." I said to him back, "Because if they're TALL and THIN it'll be the ugliest thing dancing ever. TALL and THIN people just don't look good dancing."
Imagine a piece of pillow and a cardboard dancing, which look better? Take Michael Jackson. His aren't dance moves, he's muscles are just strangely jello like.
Woody from Toy's Story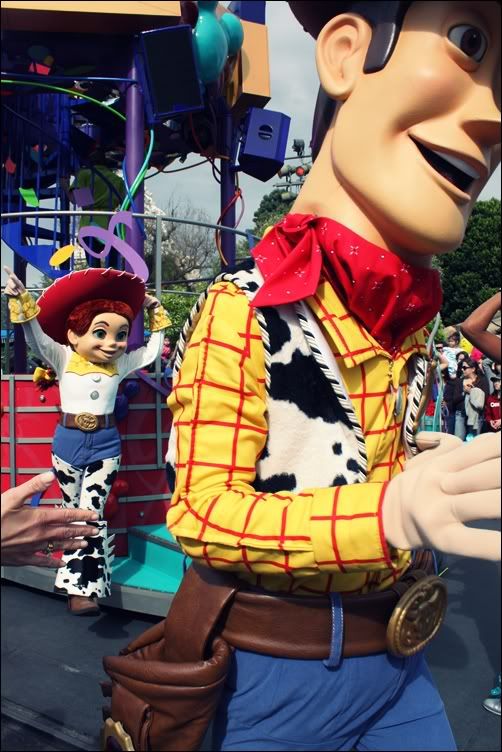 Behind one of them from Toy's Story as well whose name I do not remember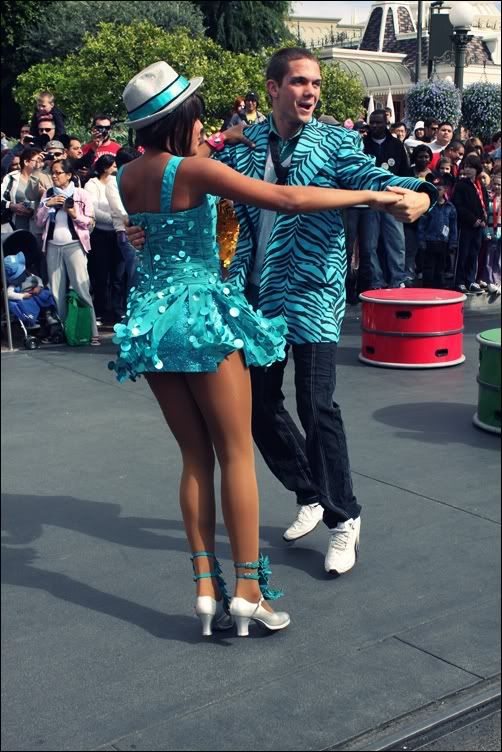 Dance partners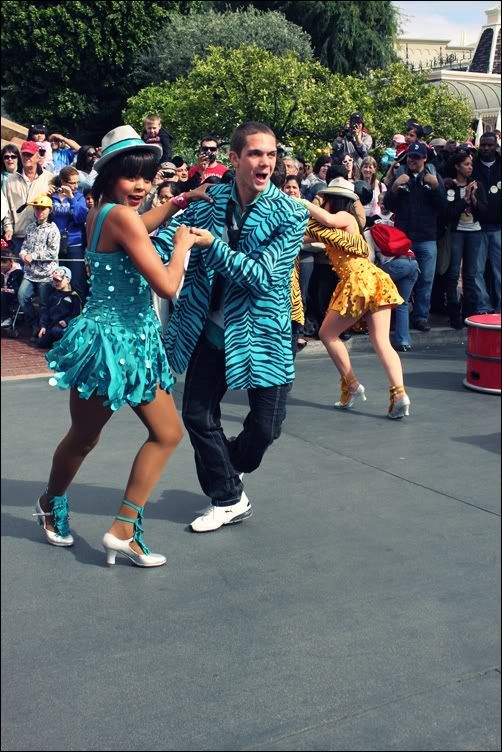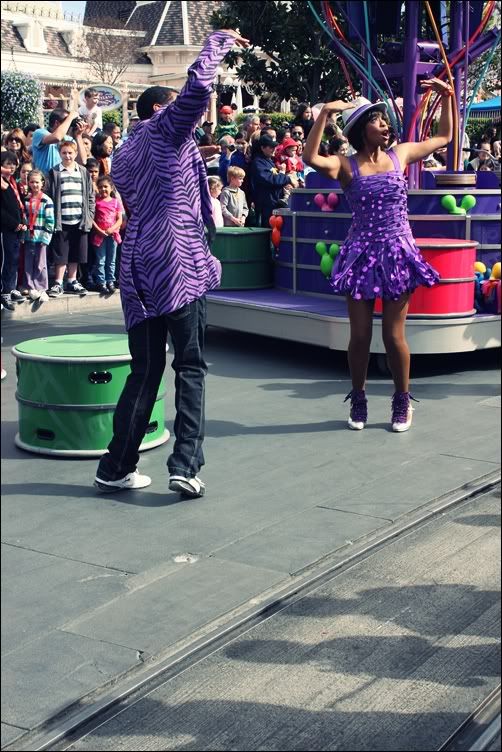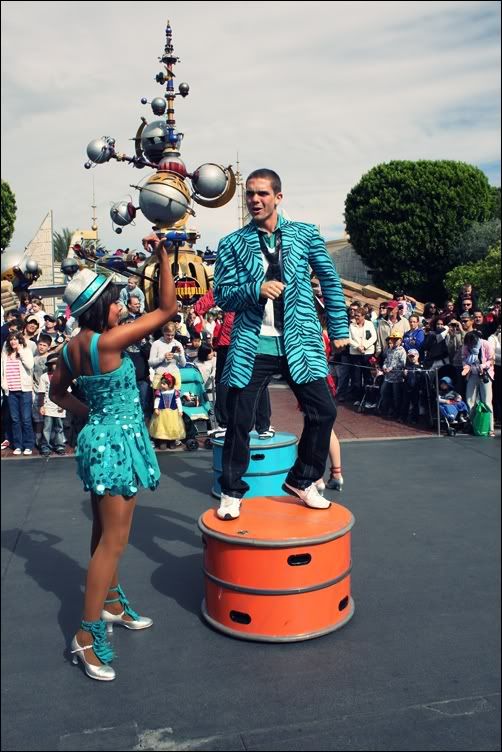 Why the frown?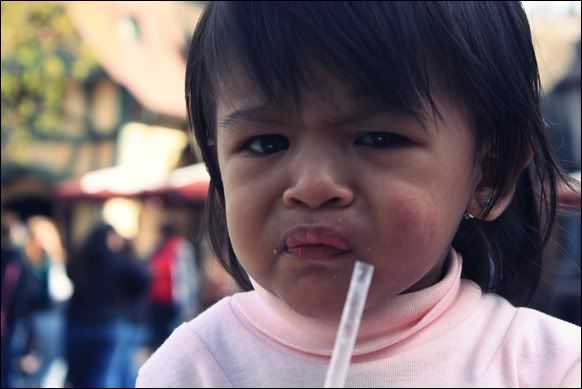 N insisted on drinking Z's lemonade. That's what she got. Extreme SOURNESS!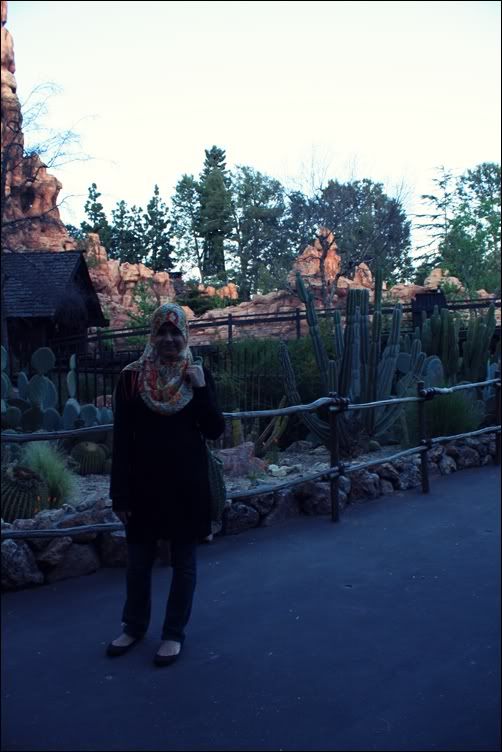 It was quiet and calm...
SUDDENLY!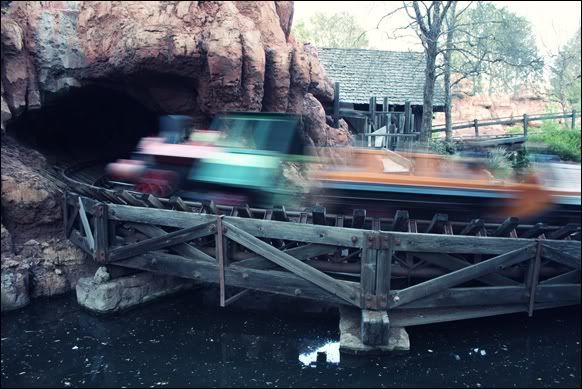 A trained zoomed past me so fast I couldn't snap a still picture of what was moving
Ferris Wheel
And, that was it. We wanted to wait for the end parade but was simply way TOO tired to wait. We exited while fireworks were being shot up in the air. Some were nice but most plain ones you see on National Day.
We dropped by the shops at Main Street and bought something where I saw cute looking candied apples being sold in the shape of Mickey Mouse! Cute.
That was it for the day. We drove back to the lodge, parked the car there, make our way back to our room and BAAAAAAM we were in a deep sleep within minutes.
We needed our sleep. Tomorrow was to be an important day. I tell you why later on. XOXO, me.