Today was Day 7. It was our last day in Los Angeles. I was going to leave the next day and head back to humid and hot Singapore. Ooohhh, how I dreaded that thought.

While we were on the plane in Singapore on our way to L.A., I overheard a Caucasian lady commented how much she loved Singapore and wishes to stay here. Then she added, "That's what I say whenever I go on a vacation!" It got me thinking that she might be right.

Look at what I did on my holiday! I shopped, I walked around, I dined at restaurants (if McDonalds can be considered as a restaurant as well), all we do is relax.

That Caucasian woman must be kidding though to give up the nice weather she gets in her country over a place that's hot yearly. Who would prefer HOT over COLD?

Anyway, today was Free & Easy day. Free & Easy on Z's well prepared itinerary meant WE HAD NO PLANS! Disappointed with my first TINY picture of the Hollywood sign, I read through the brochures Z had taken from the lobby at our lodge.

Most of them offered going to 'Hollywood Sign', 'Hollywood Celebrity Homes', 'Melrose Place', 'Rodeo Drive' and those popular attractions in L.A. Z did a lot of research online and saw many reviews about the Hollywood Celebrity Home tour being a 'con job'.

But I thought, what the heck? A part of the hollywood celebrity home tour was to drive us close to the hollywood sign which is the one thing I really want. The tiny picture I got from 1, 000, 000 feet away didn't satisfy me.

We were suppose to take the tour at 3 pm but after our lunch at McDonalds, we passed by the place that did the tour and the person in charge asked if I wanted to do it now.

Why not? We had no where to go already. So we agreed and took the earlier tour.

So we started our tour from Hollywood...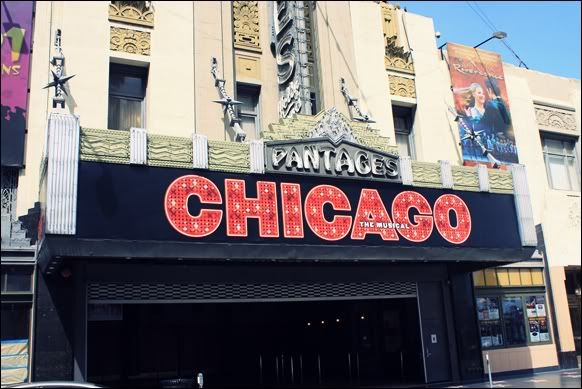 Theater showing Chicago. If only I had a husband who loves musicals coz I do. Would definitely prefer going to a musical than watching Deep Purple.

Capitol Records
Where Elvis Presley and many other musicians recorded their songs.
Finally, a better picture of the Hollywood sign. Last one I took was so tiny nothing could be seen.

Hollywood Sign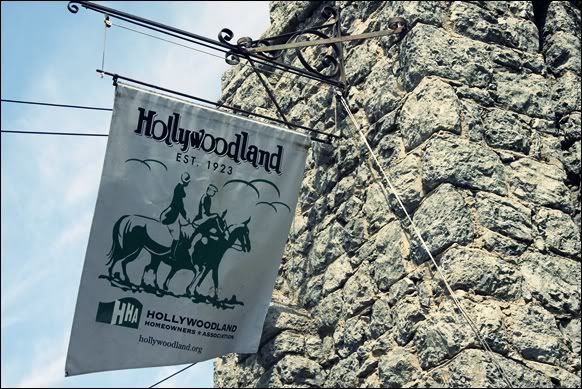 Previously, the Hollywood sign actually said Hollywood Land. In the 40s, some group or company took down the Land and named it Hollywood.
Read here
for more about Hollywood sign history.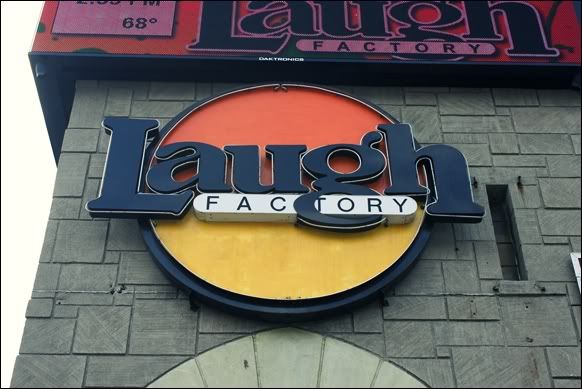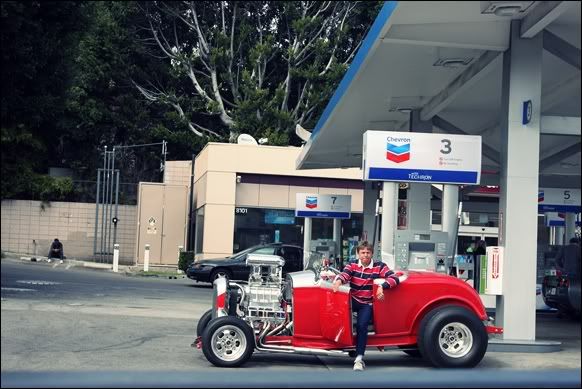 Cool looking car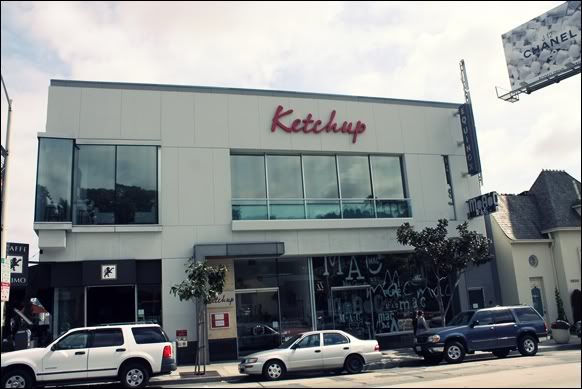 Ketchup owned by Ashton Kutcher
Then our Hollywood celebrity home tour began.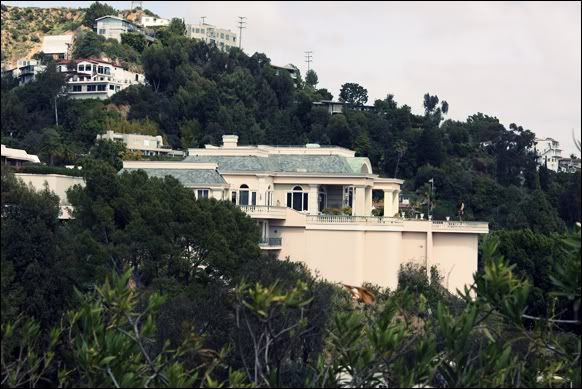 Mansion above: Previously owned by Britney Spears. Bought over by Brittany Murphy.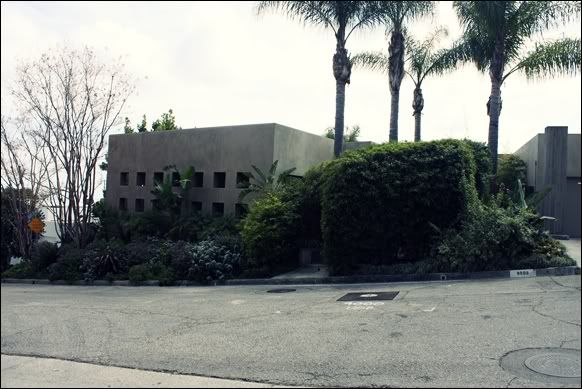 Courtney Cox & husband used to own that place above.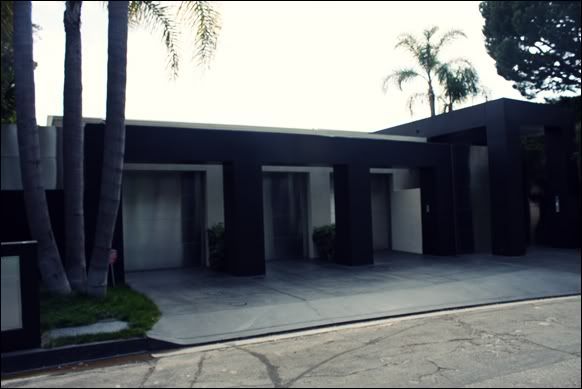 The Matrix House. Previously owned by Keanu Reeves.

Greystone Mansion
Greystone Mansion
, aka the Doheny Mansion, is a Tudor-style mansion on a landscaped estate with distinctive formal English gardens, located in Beverly Hills, California, United States.
The 55-room, Tudor-style former residence, 46,000 sq ft (4,300 m2), sits on 16 acres (65,000 m2) of land. At the time it was built, it cost over $3 million and was the most expensive home built in California up to that point.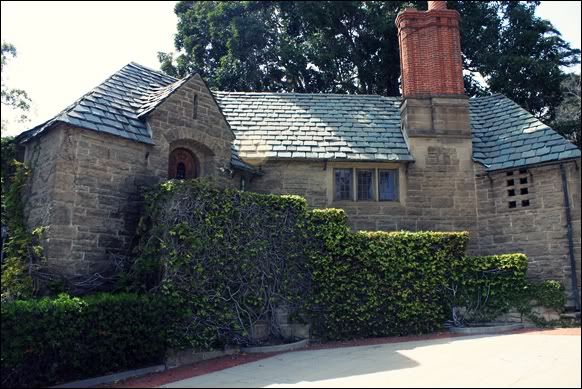 That's not the mansion. The mansion is 10 times bigger than the picture above. That already huge house, well, that's where the housekeeper stays. They live in a place bigger than our homes here.
The house at the back, the white one with the brown roof, that's where Tom Cruise lives with his wife.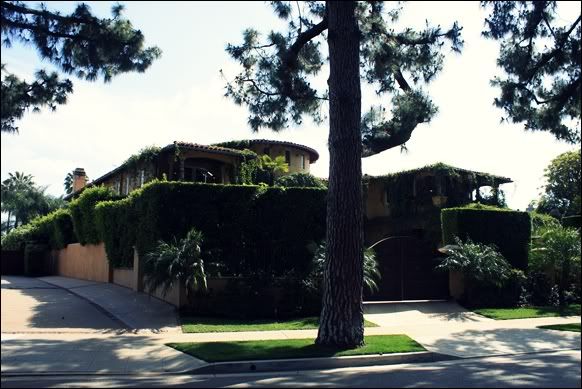 B lister actor lives there. Even B list actors can afford houses on Beverly Hills.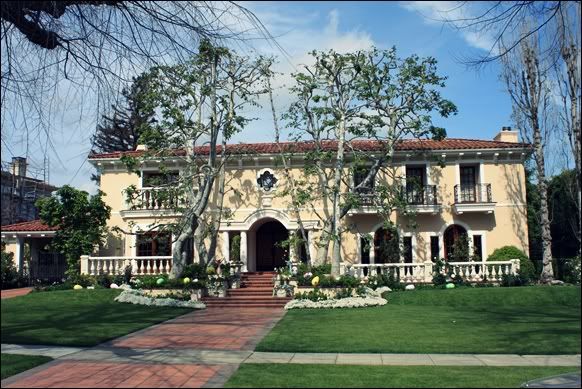 George Clooney used to live in that house before he made his big break. That house belonged to his aunt. Now? They never showed us where he lives now.
The balcony of Michael Jackson's rented mansion.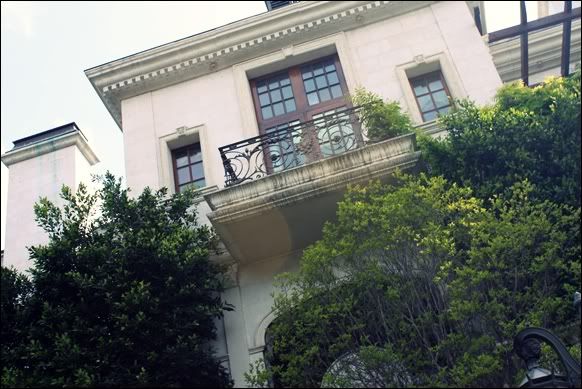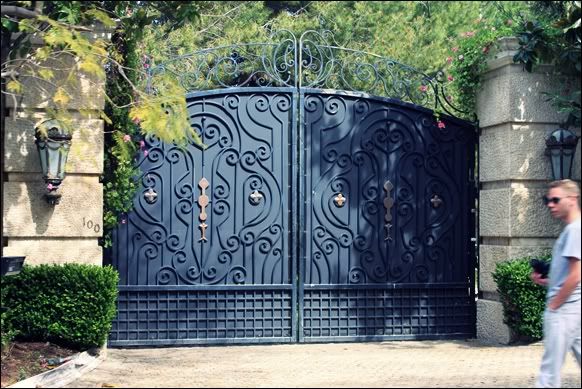 People all stopped and tried to take a peek inside. Of coz it's off limits to people. If only Neverland ranch is located at Beverly Hills as well. I would love to see the place that used to be his home, one that he build before all the molestation incident happened.
You'd be surprised to see where that house he rented is located. Just next to the mansion is the road is the main road and right next to his mansion was a bus stop. A bus stop? At Beverly Hills?
Anyway, there were a lot more houses that we were brought to. Even homes that Simon Cowell bought was there. I can't remember them all so I am not putting it up. I'll post all the raw pictures on Facebook.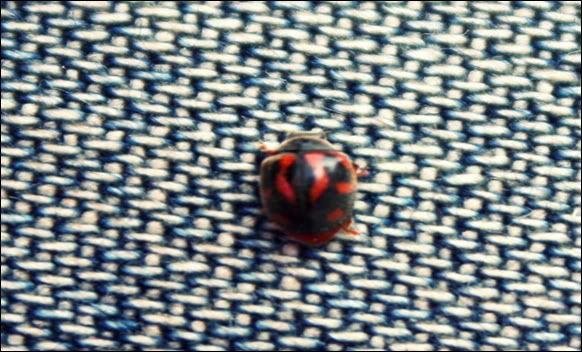 Ladybug landed on Z's jeans

Colourful Mexican restaurant

The back of L.A Ink shop
The shop where L.A ink is shot. I honestly thought it was along a stretch of shops. Turns out, there's only three shops. The tattoo shop's located in the middle with Edible Arrangement shop on its right.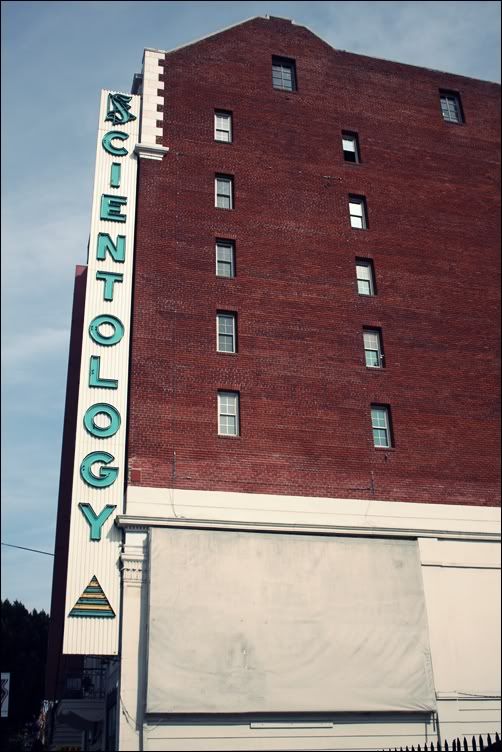 Kepercayaan Tom Cruise
We got back to Hollywood because I wanted to try snap some photos of the character along Hollywood discreetly. See, if you wanna take a picture with them, you gotta pay them. Since I am a cheapskate like that, I took a picture discreetly.
There's Spongebob
Michael Jackson before he was white. There was a white one as well. Didn't get to take a picture of him though.
Character from Avatar. They didn't look anything like them at all. The real Na'vi got large bulbous nose and huge eyes.
After snapping some photos, we took a bus and took a walk along
Sunset Strip
. Honestly, I've no idea what's the significance of that stretch of road, but Z said it's a popular place.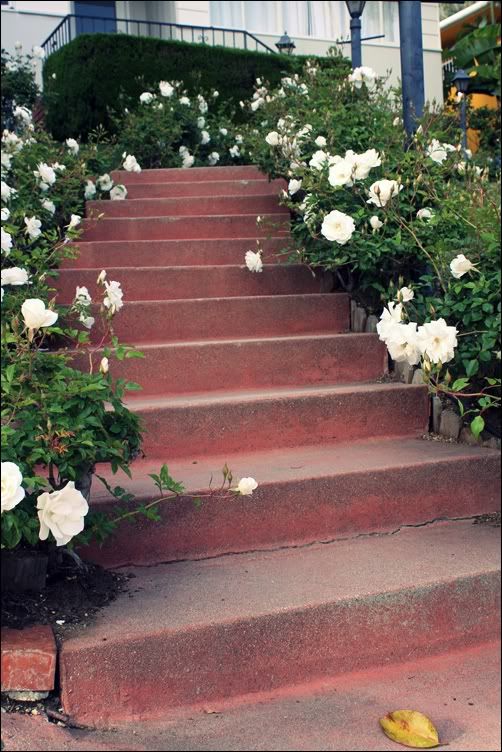 While we were walking, I saw a house with beautiful flowers along the steps that lead to their home.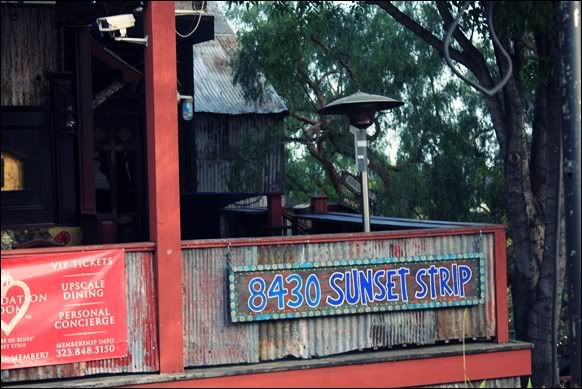 Sunset Strip

To show how exhausted I was from the long walk
Our plan was to go to Santa Monica or Robertson Boulevard by bus coz we saw a yoghourt store and crepe store along that street while on the tour bus. So, we made our way there. Z insisted that we walk and I tell you IT WAS SUCH A LONG WALK I was so tired.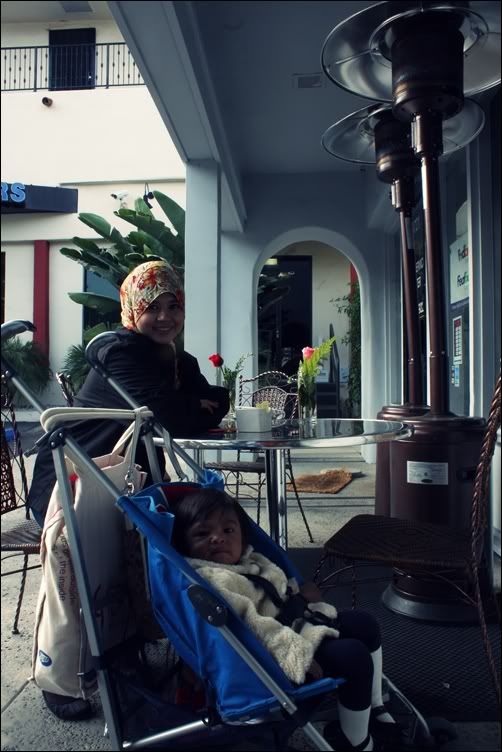 We stopped by a crepe store and sat outside the store coz it felt more romantic outside. By 6pm, it started to be real chilly outside. How I regretted sitting outside. It was freezing cold.
I wore my Juicy Couture bracelet that I bought from Rodeo Drive. That's the rainbow charm I bought. Z gave me the green light to buy one charm every month. Yayyyyy!

Our crepe with a scoop of ice-cream
His, Chocolate with Banana crepes. Mine, Chocolate with Strawberry crepes.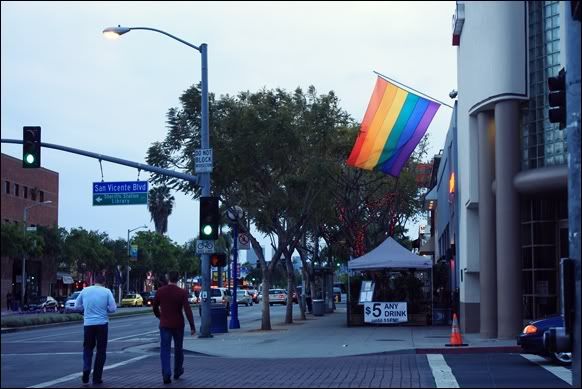 After we were done with our crepes, we took a walk down the stretch of road. Initially, I wondered why they had rainbow flags up. I thought they simply had it up since California is one of the states that allows gay marriage. Turns out, that was Gay Town!
While we were walking, they had gay clubs out in the open with guys in only underwear dancing to a pub full of guys who were seen hugging each other.
Two popular places in Los Angeles. Robertson Blvd is the one place to go if you want to spot a hollywood celebrity. Apparently, that's where they all go.
We continued on our walk late at night, not knowing what bus to take. Then we got back to the place Z brought me to several days back. Cedars Sinai. I was surprised Z knew of this place. When he brought me there the 1st time, he said,
"It's a hospital for the celebrities."
So, that was it. We took the bus back to our lodge and began packing up to leave for Singapore the next morning. It saddens me having to write this because I really wish I could have stayed there longer.
I like United States. I don't think I'll ever get sick of visiting them all the time.