It was Day 5, the day we went to Universal Studios. I know Universal Studios is also in Singapore now, but I know one thing for sure that makes Universal Studios in Los Angeles more special than going to Universal Studios in Singapore. The movie set.

Even if Singapore makes a replica, it isn't going to be the same because it wouldn't be the same one that actual directors and celebrities used to film their film. Imagine that I saw the actual set that was used to film Scorpion King!

The set was actually build to look one way and they'd simply make additional changes to make the whole place look different from one movie to another. One particular set had many different movie shot there.

So, here's the trip to Universal Studios, Hollywood, Los Angeles. I haven't been to Universal Studios Sentosa, so I can't compare how different the two are. If you have, maybe you can tell me.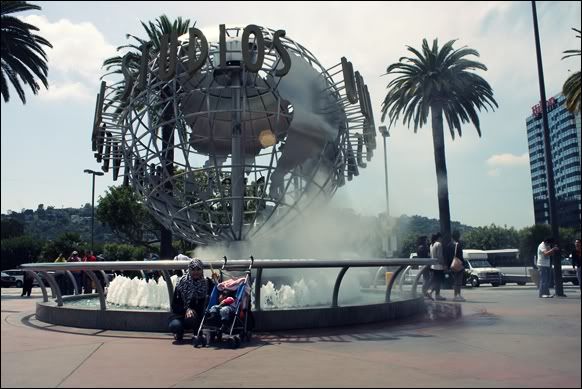 Universal Studios Hollywood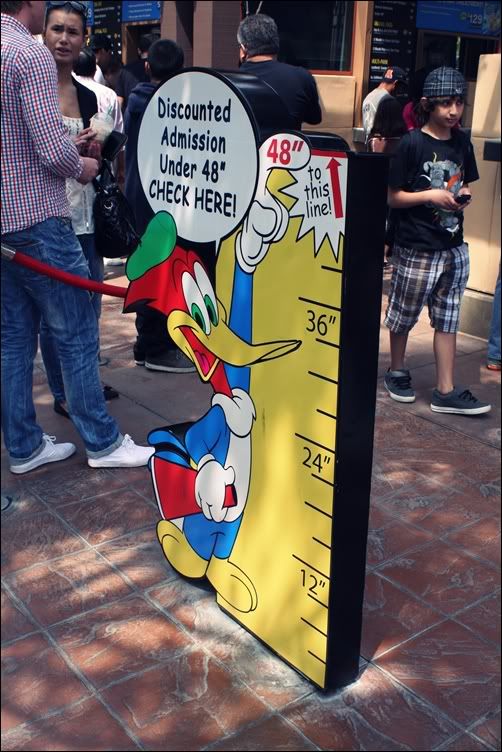 We thought N had to pay instead of getting it free like other places coz they didn't put on their board that kids under the age of 3 are allowed to enter FOC.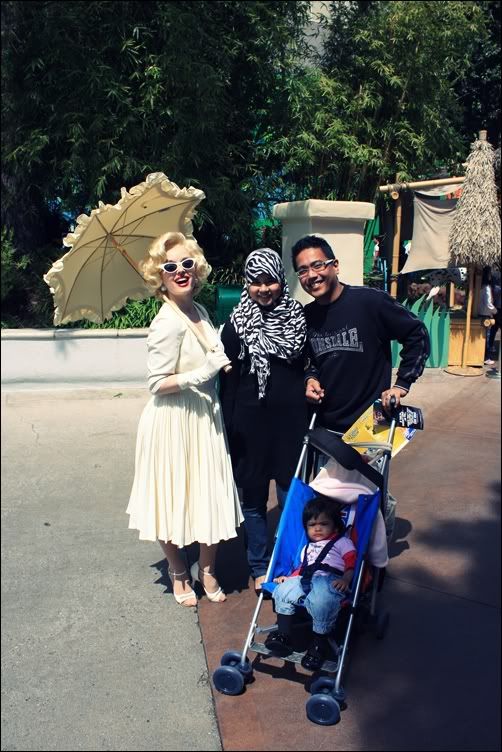 We met up with Marilyn Monroe. Fine, a fake Marilyn Monroe. She did look eerily alike to the actual person. Her face, her smile, the way she spoke (not like I've heard before actually), the way she walked and she went all,
"Have a nice day Darrrling."
with me.
Asked her to kiss Dora and she did
We headed down to Nickelodeon first to see if they had a Dora doll. N has grown up to the age where she has started to show preference towards some characters. We all thought her favourite character was going to be Barney but it turns out to be Dora!
We entered the shop to look for a Dora doll and we found one (
the same Dora doll the boy took from her on the bus
) as huge as she was.
After making our payment, we joined the queue to take the tour around the sets. I had no idea what to anticipate but it was a fun ride! Definitely worth waiting for approximately 15 minutes till it was our turn to board the tram.
The tram brought us to places that had building being build for a new movie.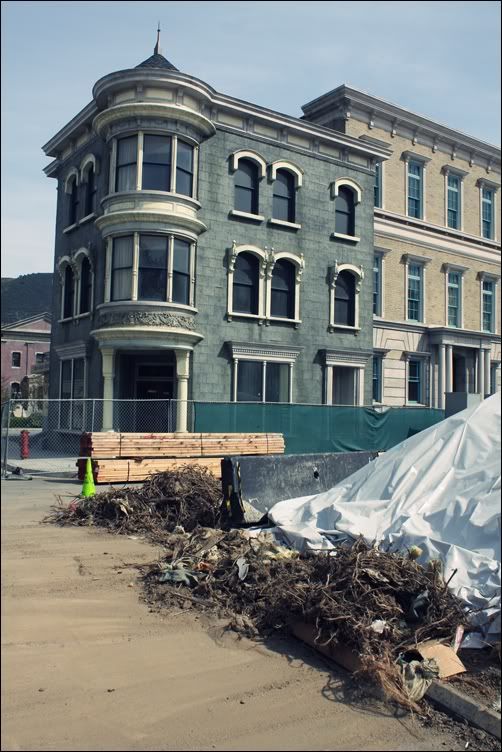 One of those new ones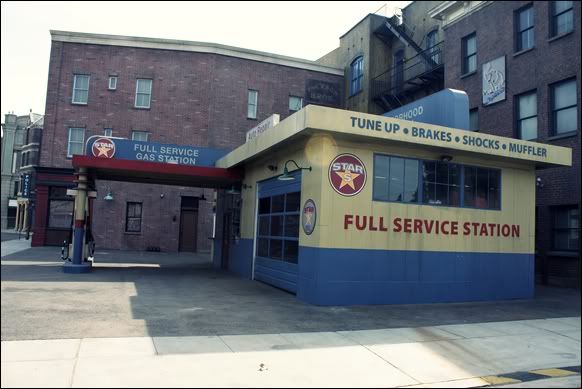 Fake gas station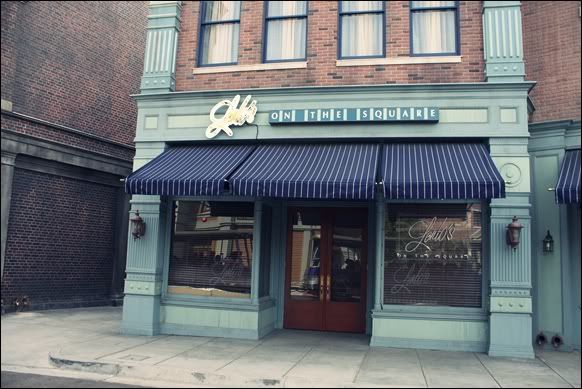 Fake shop
Fake corner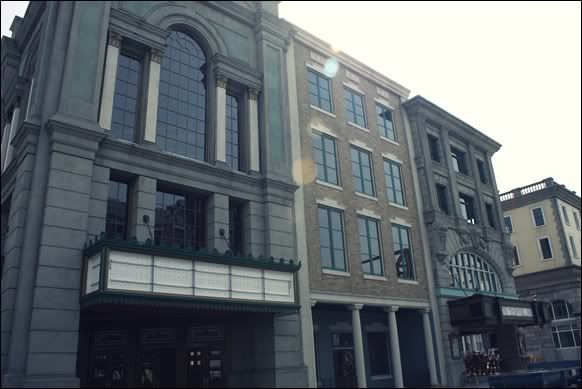 Fake movie theater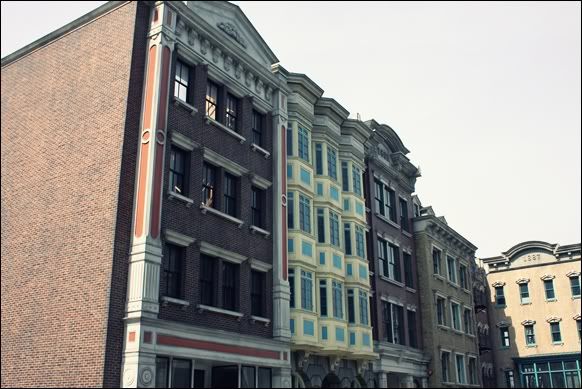 More fake buildings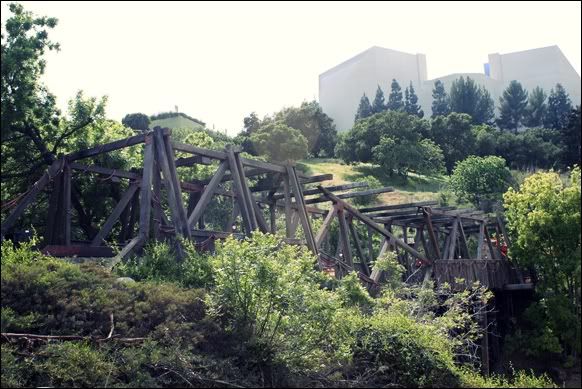 Bridge that was build some time ago to shoot a movie. Can't recall which right now but maybe Z would remember.
Cars burst into flames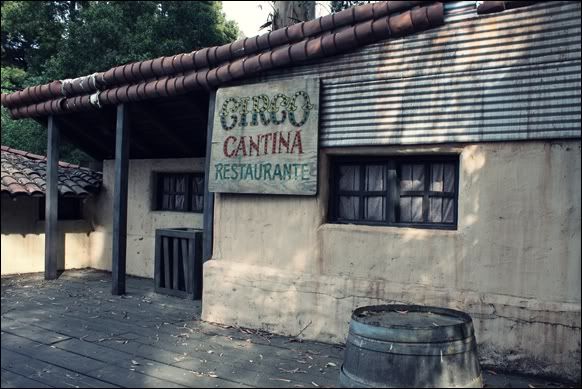 Fake Mexican restaurant
Showing us how flash flood in movies happen. They probably use 50 gallons of water just to show us how it's done. About 10 trams past while I was in line and it was mid-afternoon then. The must have wasted so much water doing this over and over again.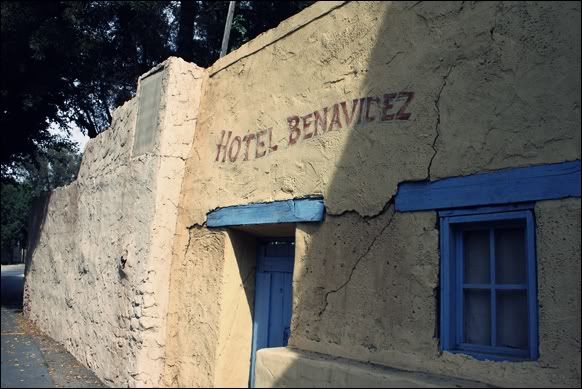 Fake Mexican hotel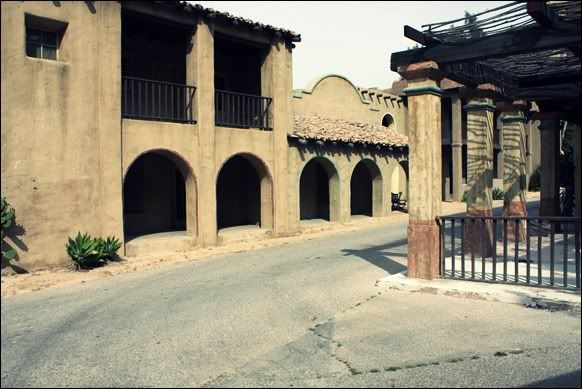 Fake Mexican town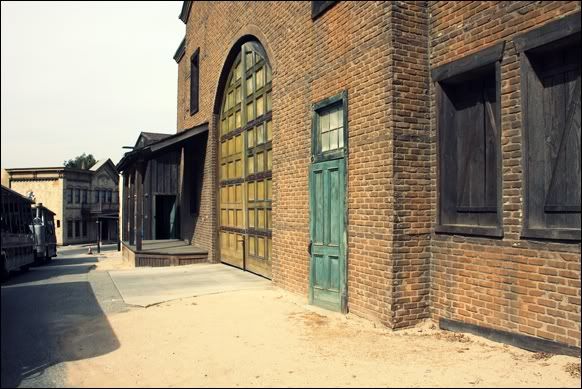 More fake lanes. Fake buildings. Fake places. They're all fake. Most of them aren't actual building you can enter where they're fully furnished. It's only a front.
I love it how real they make the places look like. Maybe add a few chairs inside and it can be a diner. Or add bookshelves and it can be a small town library.
If I am not wrong, we were on the set where JLH shoot Ghost Whisperer. It looks nothing like in the show. I didn't recognize it at all, and I watched most of Season 1 Ghost Whisperer.
This small 'lil park here. Well, that's Central Park. Central Park is located in New York and it's suppose to be a HUGE park. People go jogging there! It has to be bigger than what they've got above.
More towns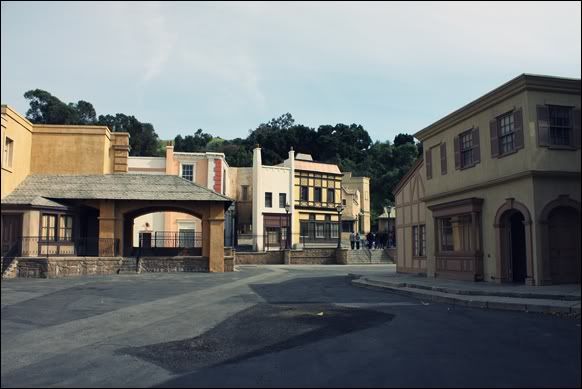 More towns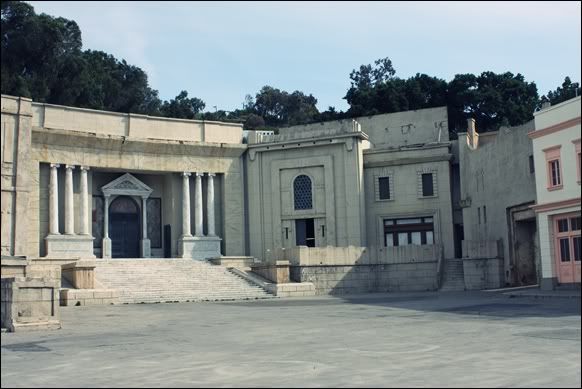 That's the set they used to shoot one part on Scorpion King. While we were on the tram, they displayed a portion of the movie and yup, I am sure it was shot there. They made a little changes but the three pillars on each side remained.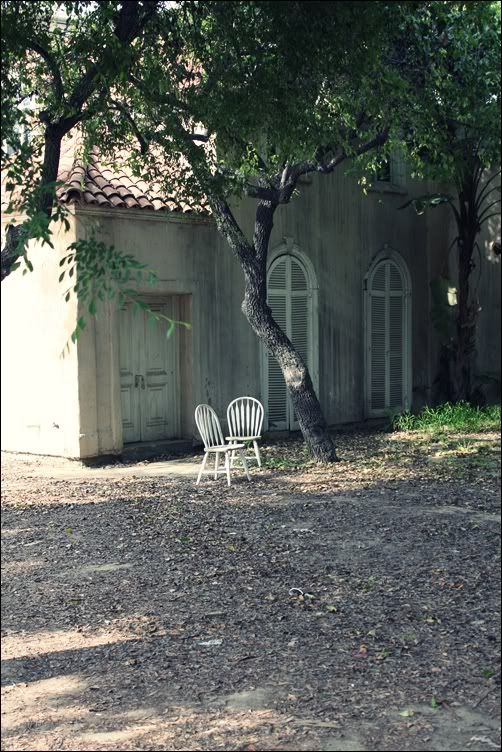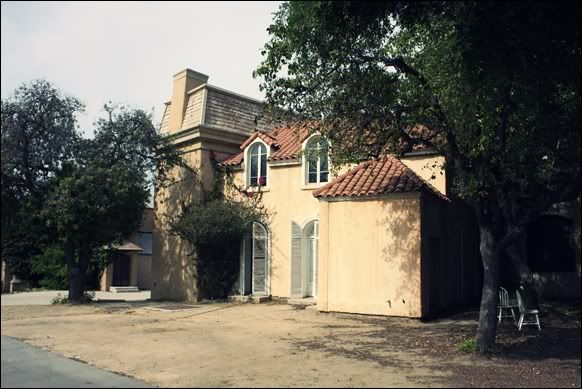 Fake house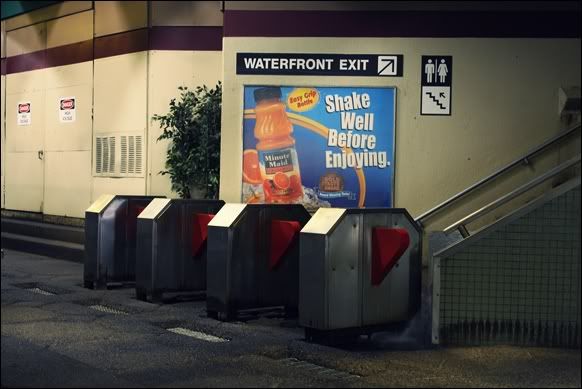 They even have a fake subway station! How cool is that. Doesn't look anything like I've seen before. So I don't know which state this train station is suppose to be. However, the tiles on the stairs reminds me of the tiles used in New York.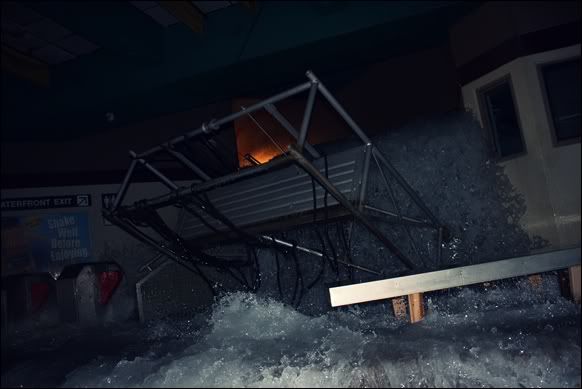 While we were in there, the whole place blacked out. Water started rushing down the stairs, making that (above) stand fall. It was all a show. No water splashed on us. They planned it all very well.
I sat on the extreme right so whatever I managed to take was only on the right side. There was a lot going on on the left, but it was hard to snap a picture. The had a huge petrol tank fall towards us and all. I got to see but no pictures.
I do remember Z snapping a picture of that though. So you can see it on his blog if you want to.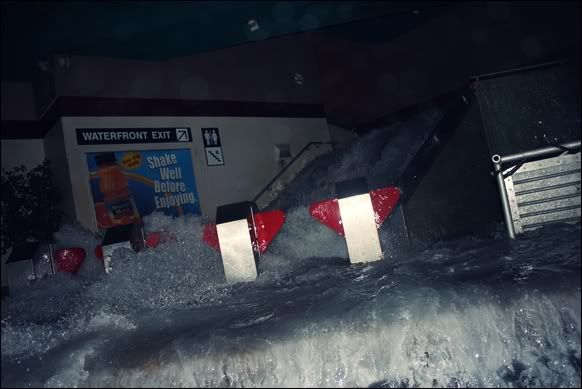 Imagine this happening while you're standing there about to enter the train station.
I saw a movie shot on this particular lake several days back! I remembered the place to dock the ship (didn't take a pic) and was all,
"Ohmygod! I was there."
The lake's really small the movie showed like as if it was huge.
Oh! I did snap a picture of it. Yup, so that was it. Exactly the same except without the Cabot Cove.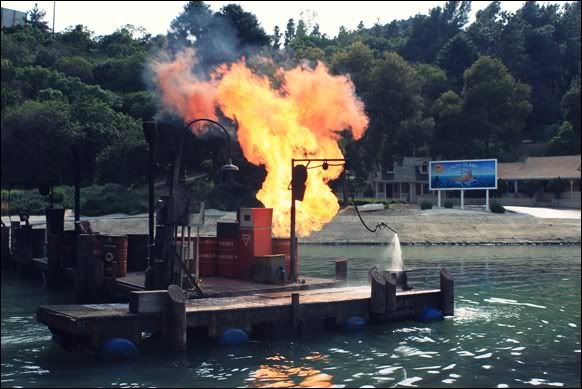 More of their fire and water action
Everything about the sets were fake just like Hollywood is!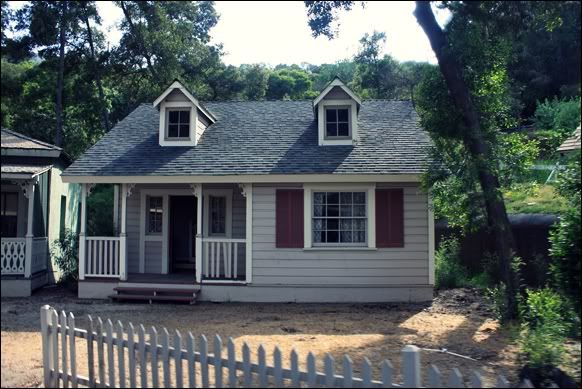 More houses before our guide said to us...
"We're now going to the set of Desperate Housewives."
OMG! OMG! OMG! My heart stopped for a moment. I am one of their biggest fan! I never thought that I would ever get to see the actual set of Wisteria Lane. Now, I have. I've watched every single episode and I am watching Season 6 (coz Singapore is 1 season too slow) online.
I wanted to jump out of the tram and start touching them. Too bad I couldn't. You can if you pay USD 2, 00. I don't have that kind of money. So, too bad. No touching for me. Well, seeing them was good enough.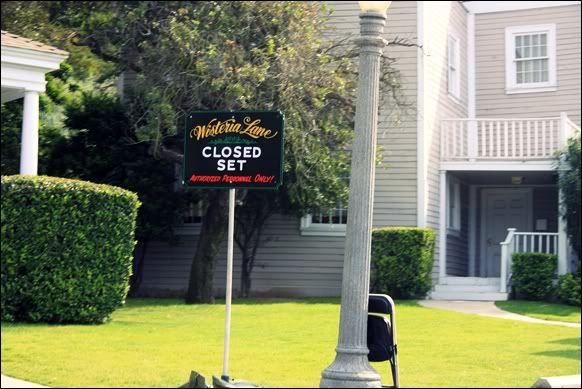 WELCOME TO WISTERIA LANE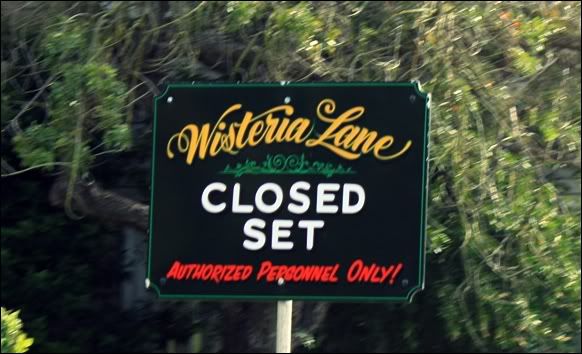 I was REALLY lucky. If I had gone here last night, I would not have been able to see Wisteria Lane coz they were filming an episode the day before.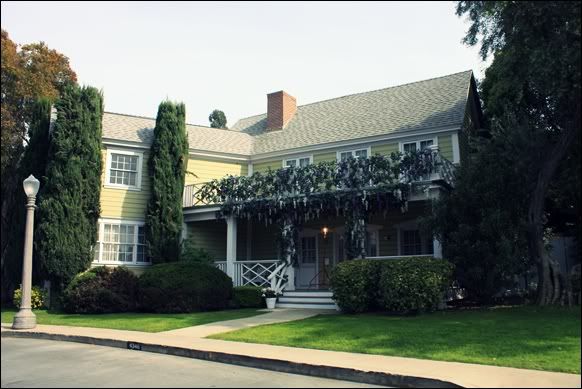 First house we saw on Wisteria Lane. There were only several houses I recognize. Not all of them. I can make guesses but the houses are all pretty much the same.
Do you know? Some of the houses you see aren't fully furnished with furniture. Only some of the houses on Wisteria Lane are.
Update:
Alex and Andrew Van de Kamp lives here. They're a couple and Andrew's mom bought a house for them.
Can someone please tell me whose house this is? I can't recall. I think it's no one and only there to make the place look like a real town.
Though I watch like every single episode of Desperate Housewives, sometimes watching back-to-back episode online till late in the morn, I couldn't remember all the houses there.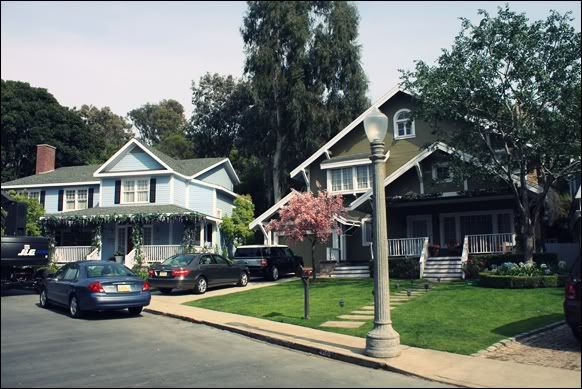 Update:
Mrs McCluskey house is the blue one.
Update:
Kathryn's house is the brown one.
Don't remember this one either.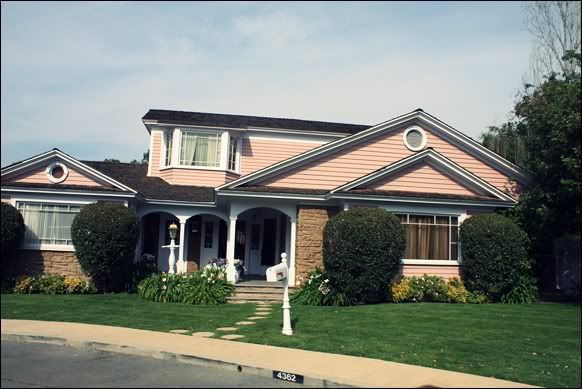 This I know belong to Edie Britt. You know the Big B on Wisteria Lane who has nothing nice to say to anyone.
As we were driving, I saw...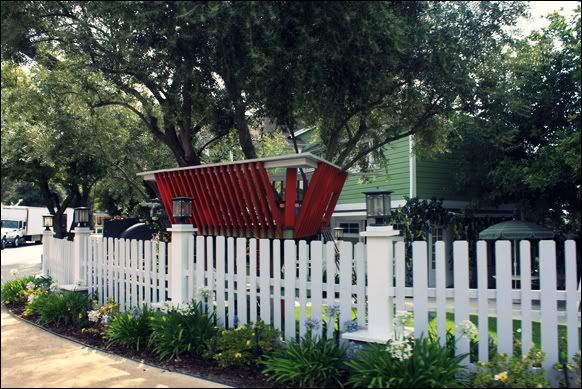 A tree house! Immediately I thought of Lynette Scavo.
[SPOILER AHEAD

, in case it hasn't aired in Singapore

]
There was an episode where the whole town wanted to tear down the tree house because the gay partners decided to put a horribly ugly metal water fountain that goes 'piak piak piak' day and night not allowing Susan to sleep at night.
[END SPOILER]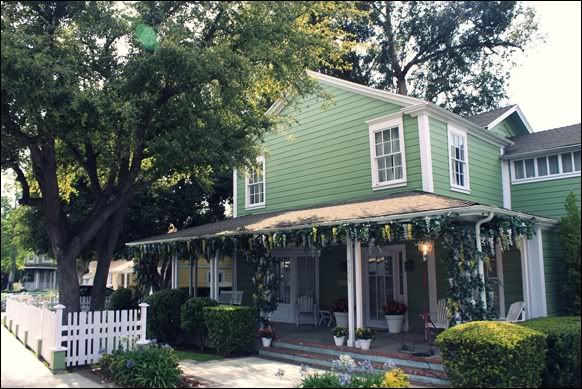 The Scavo's home on Wisteria Lane
This is Susan's house because I remember one episode where she turned to her right to see the house next to her. It was Lynette Scavo's house and this was next to Lynette's house. So, this one's next to Lynette's home. The window with the pink and white flowers I assume is the kitchen sink window. She likes looking out the window to 'spy' on her other neighbours.
The gay couple lives in that purple house!
Gaby Solis's house. They're the rich one on Wisteria Lane and their house is suppose to be the biggest around. However they all looked equally big on the set.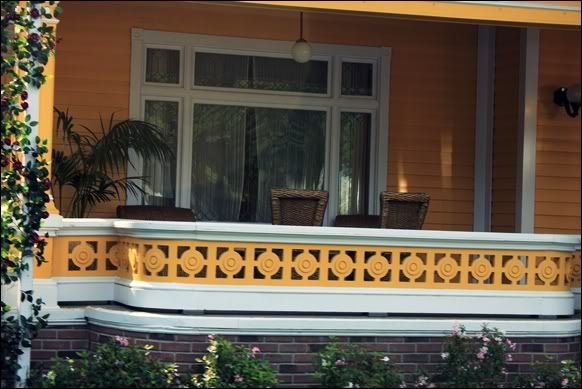 The porch Gaby would laze around with a cuppa wine in her hand, sometimes doing to with her friends, when they've got problems.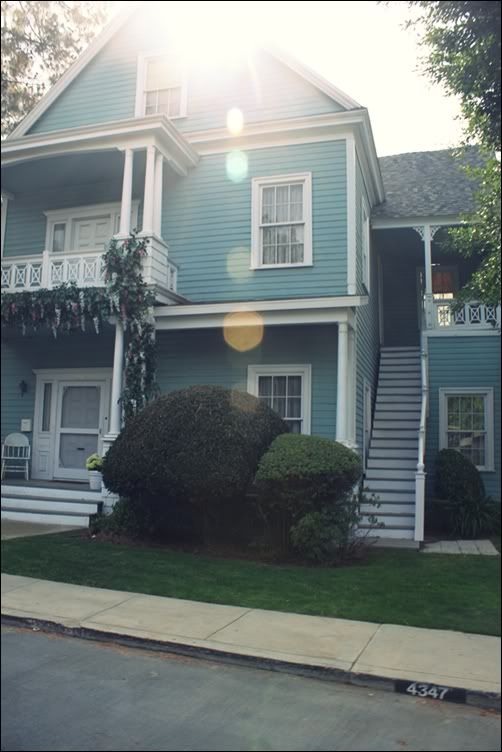 Last house on Wisteria Lane I managed to snap before we drove off. The "effect" (dot like stuffs) you see on the picture are not edited (which is possible on the software I use, just click and place where you want it to be and viola, it's done) but due to my dirty lens.
Oh! I forgot to mention.
If you watch Desperate Housewives I am pretty sure you've seen the park on Wisteria Lane where they even hold children's party, right.
See, the actual size of the park is no bigger than than the size of a really, really small toilet in an apartment! It was so tiny I wasshocked I looked at Z and went,
"Omg. They shoot kids having parties there."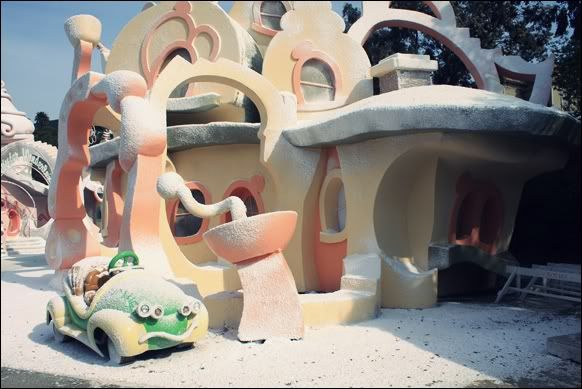 Watched Grinch? It didn't actually happen at a place with real cold winter. It was in L.A. where there's no white winter.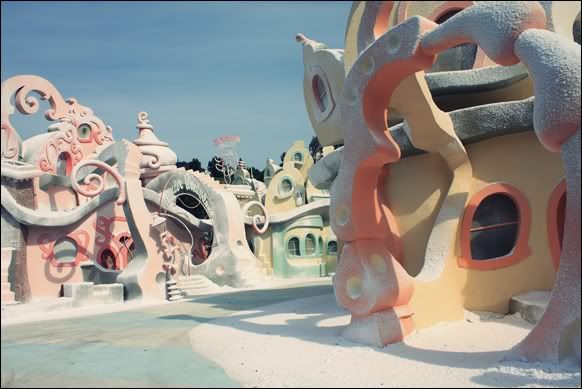 On the set of The Grinch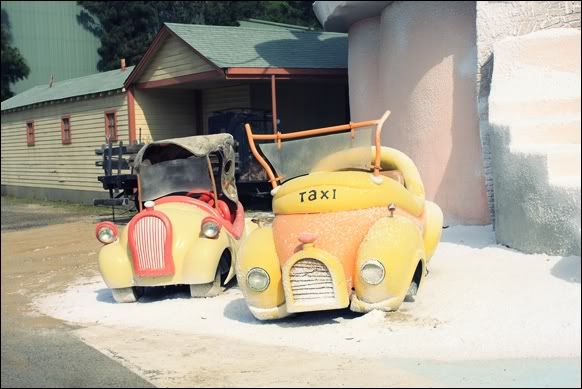 See the house behind this set? Amazing that they've got different set side by side.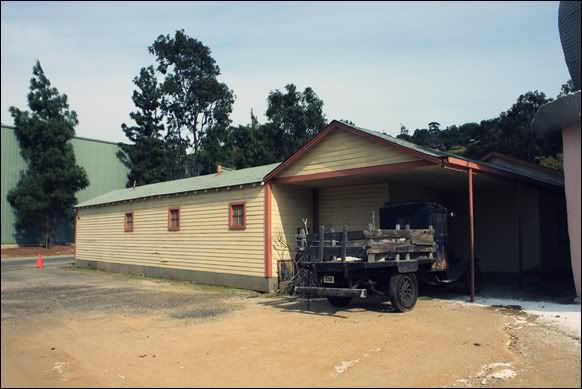 I didn't know what this was until we moved forward to see what was in front.
It was Bates Motel!
It was the set of Phsyco. I remember watching this show many years back. I thought it was an OK movie with very bad quality. I thought it was one of those B grade movies until Z checked on Wikipedia and went,
"Sayang. You sure it's a B grade movie? It's [insert name of Director] who shot the movie. I don't think it's B grade. It was shot in the 60s."
Then I was all,
"It wasn't great, but it was ok."
I did watch it till the end!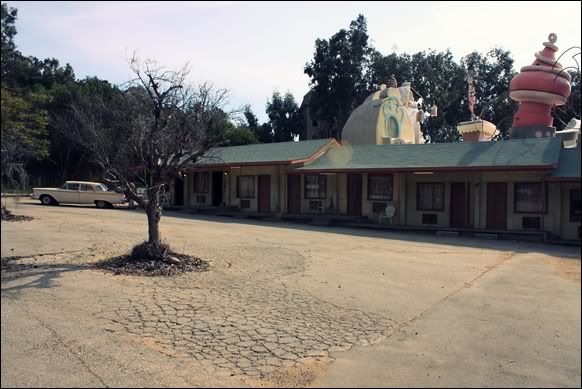 They even had the Bates mansion up the hill! Unfortunately, I didn't get to snap a picture of it.
Then a guy exited from one of the rooms carrying a body wrapped on a white sheet.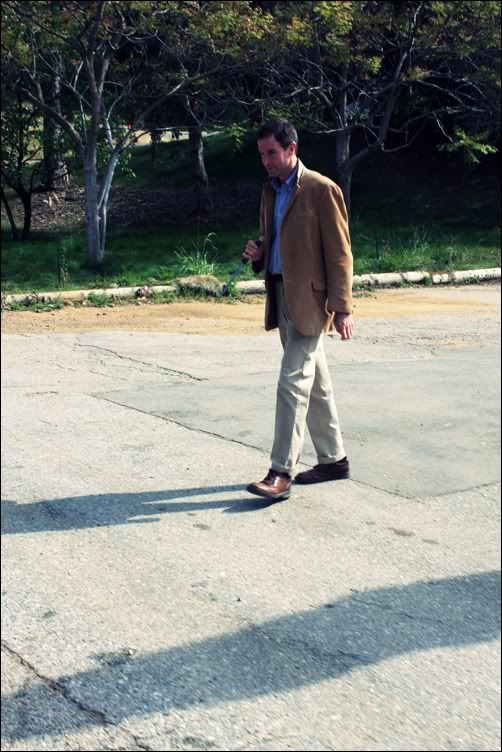 A guy walked scarily towards us with a knife in his hand.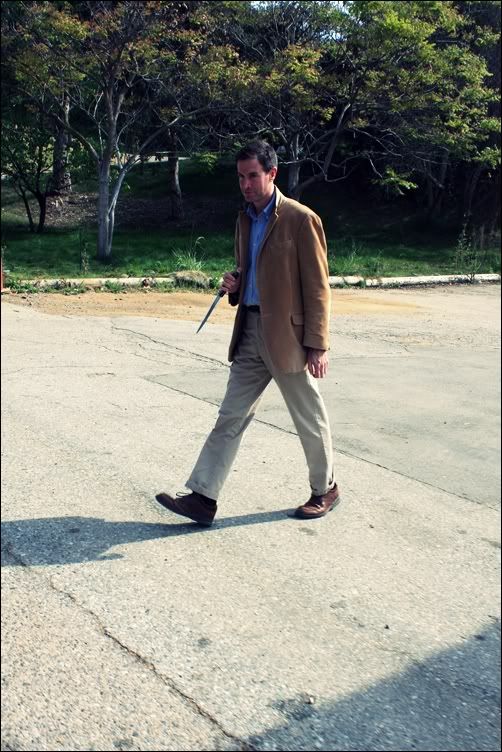 Then, we headed to another set. It was used for the recent movie Tom Cruise acted in where they world started crumbling down.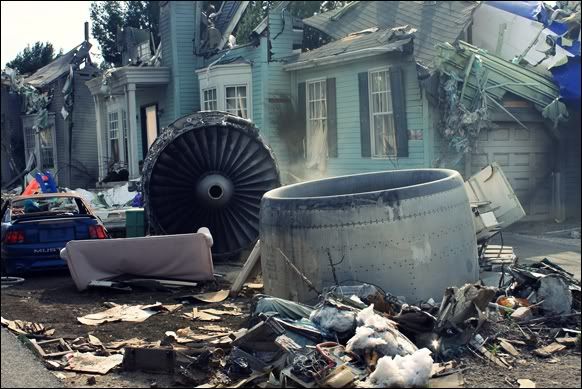 They even had real airplane broken into parts.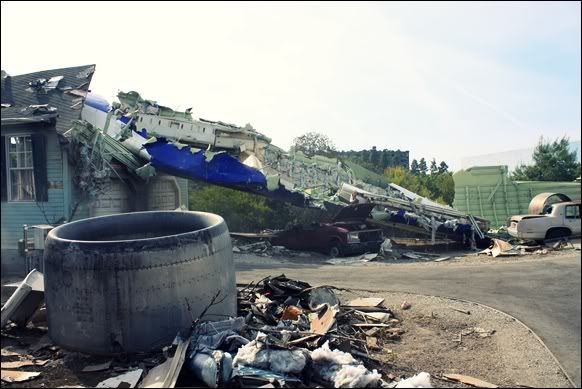 It cost Steven Spielberg more to ship the airplane to the studio to the cost he purchased the plane for.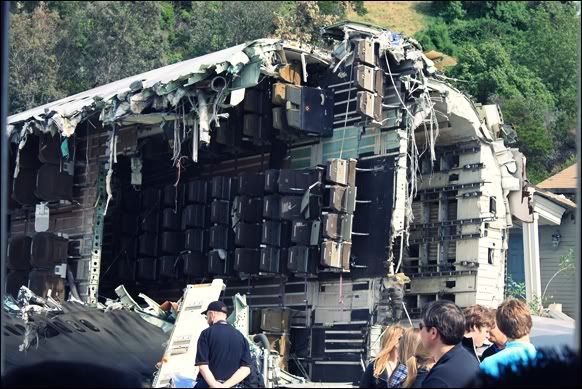 Plane the ripped apart.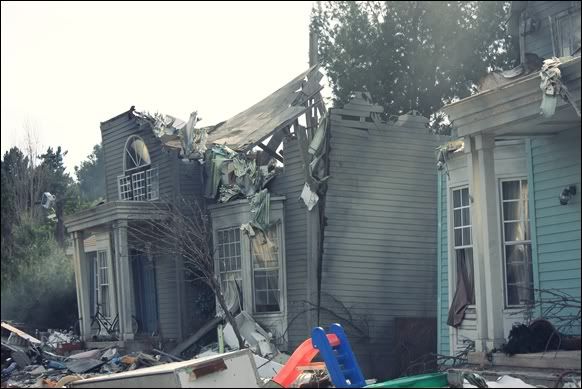 Broken houses
See closer there's a human feet sticking under the window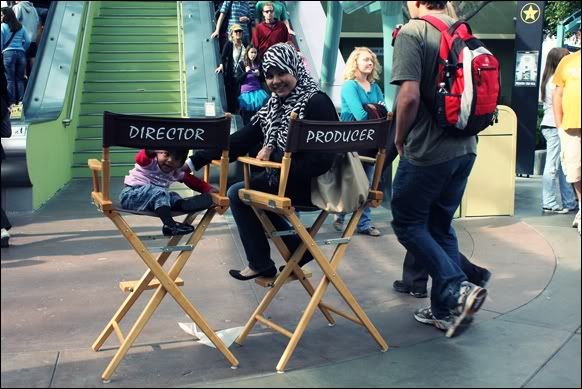 Director N
Producer Mama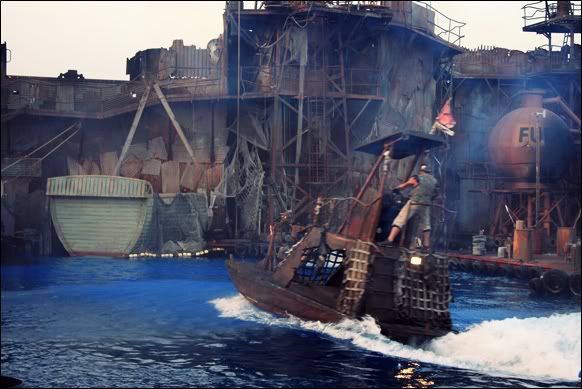 Water World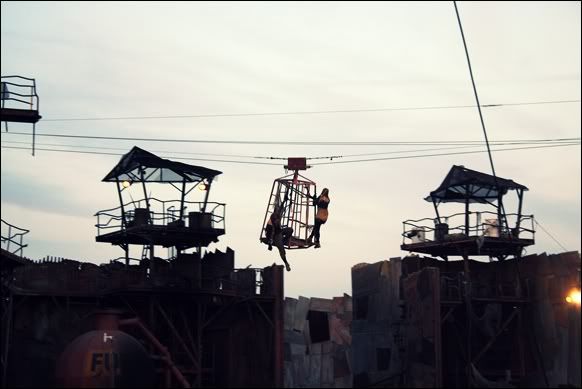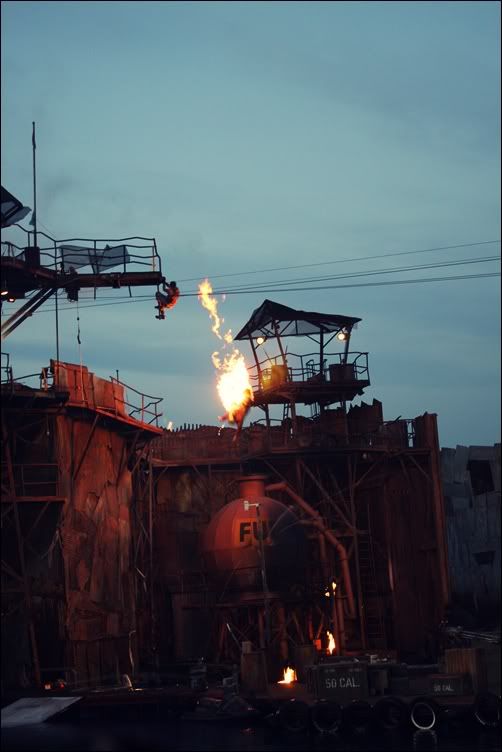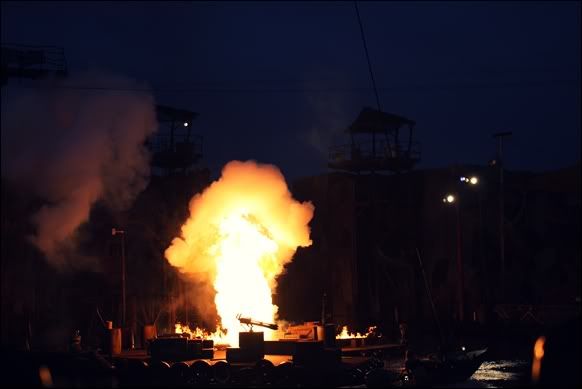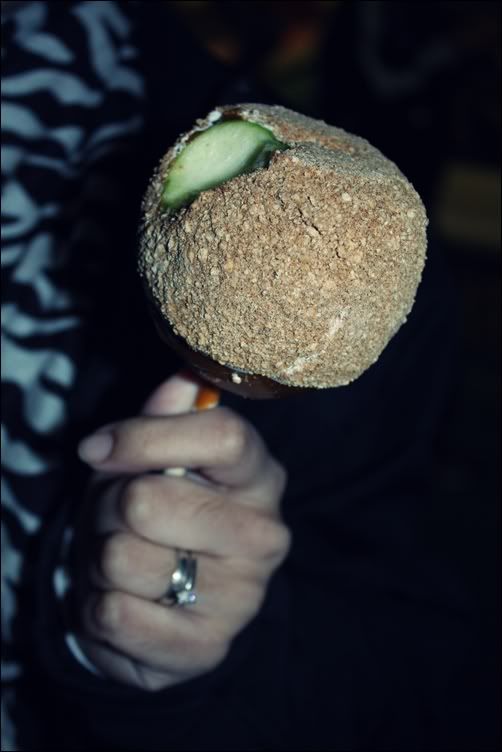 Yummy Cheesecake Candy Apple
It was so good I regretted not buying another one.
We ended our night with a candy apple for me before we headed to a candy shop located outside Universal Studios.
Over there they sold M&Ms in a lot of different colours!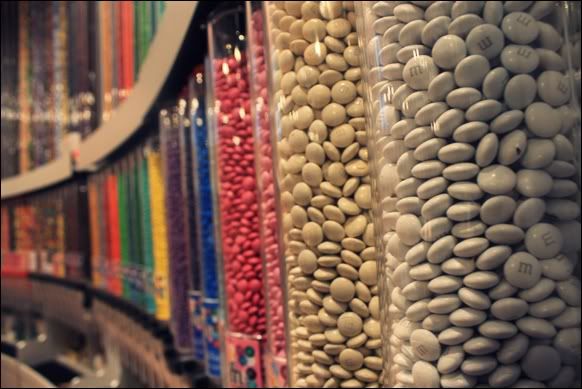 We ended our night taking away Bubba Gump shrimps back to our lodge. Their shrimps were super nice I wanted it all too myself. Too bad I had to share it with Z.
So, it was another tiring night for us and we slept as soon as we could. We still got two more days in L.A. the holiday hasn't come to an end yet.