Z and I started Day 4 later than we had planned. The day before Z was certain I'd be able to wake up before the sun rises because D day that I was loving forward to most on this holiday has arrived. Truth be told, I could wake at 7 am as planned. Come on, it's D-day!

The only reason I woke up at 7.10 am instead of the scheduled 7 am, when in fact my eyes were already wide open and staring at the digital clock in our room coz I wanted to make sure I pretended like I really couldn't wake up to prove Z wrong.

I know, how childish right? Let's see. That's how we husband and wife are. We love to TEASE each other. I woke up, said to him, "See, I couldn't wake up."

Of coz, now I regret trying to prove him wrong. We ended up arriving at the location an hour later than our expected time. I know you must be wondering, I woke up 10 minutes after the expected time. When it comes to me, a minute can be crucial! What more 10 of it.

We had breakfast of cereal and bread with grape jam provided at our lodge because Z said, "If we have breakfast here, we can start our plan right away! No need to stop for a meal first." True. But I was pretty sure I wouldn't need food or think of any while doing it.

Now, what was so special about this day? IT WAS SHOOOOOOPING DAY!

We started our day at Ontario Mills.

According to Z, Ontario is located outside of Los Angeles. It seems like everything is a town of their own. Like Anaheim. Also half-an-hour away was Ontario Mills. Parking wasn't a problem because parking was in the middle of the place itself! Easy to find even for the mildly blind!

It was unfortunate that they didn't have things like Kate Spade and Juicy Couture there. I was looking forward to checking out the things there. They did however have A&F, Victoria's Secret, Hollister and all those A&F sorta shops.

Z wanted to go there (Ontario Mills) because of A&F.

I spent my first $1, 00 at H&M buying a pair of gladiator sandals (that I feel like crying right now because I accidentally took size 40 when I am a size 38 [ya, I got big feet]), two bikini (for the lil ones la, not me), hot pink and light pink tights and a super duper nice dress.

Z and I felt like it's a waste of time that we followed whichever store we wanted to go to when we'd rather go else where. Like, what would I do at Hugo Boss right? So we planned to split ways and see each other in front of Coach in an hours time.

Quickly, I sprited across the mall stopping by places like A&F, VS, Hollister, Gymboree, Carters, Gap kids, OshKosh, Charlotte Russe (Bought two pair of sandals there) before I realized that it felt like an hour has passed.

I sorta RAN to Coach, entered Coach and began searching for Z only to see him nowhere. Asked the lady (since she remembered me) the time and she said, "It's 1.20 pm now."

Shoooooooooot! I overshot by 20 minutes.

Took a step outside Coach and began looking around for Z. That man was later than I was. Humph. I felt safer. Then I saw him walking towards me from the other side with a smile on his face. I knew, it was me who was late.

He made a sad face and said, "I waited for you outside Coach for half-an-hour already." Oppss!

We entered Coach because we planned to buy a wallet for my MIL from there. In the end, I spent more than half-an-hour deciding on what bags to buy for myself. From the initial plan of buying one purse, we ended up purchasing 8 bags. Double opppss!

They were honestly dirt cheap! I have never been a fan of Coach or any of those boutique you see at Ngee Ann City because they're beyond what I can afford myself.

For someone who is still a student like myself, I wouldn't want to be spending my husband's money on such things. I'd rather wait till I earn on my own. Though he always claim that what's his is mine (including his hard earned money), I don't spend his money like it's mine.

Since Coach was selling their bags at 50% off on top of the already discounted price with an additional 20% to the total amount or 30% if you spend more than $350 (we got 30%), it was hard to resist them.

In the end, our total purchase of 5 bags, a purse for MIL and a few stuffs Z bought cost us only USD 5, 00. Tak ke aku borong pat sana?

Despite them being older models, who cares? They're bags and I'm no Paris Hilton. Old models are no biggie to me. Even if they're models from back in 2001!

As soon as we made the purchase, we drove to another mall that was an hour away from Ontario. It would have taken the same time if we'd started from the lodge so the distance was actually alright.

By the time we arrived, Z was hungry but I wasn't. I wanted to shop. I can't believe we wasted an hour eating. We had fish again and because of this trip I'm never having fish ever again.

We headed to this mall specifically for Kate Spade and Juicy Couture. My elder sis passed some cash for me to buy bags from Kate Spade there. I was disappointed with the things they had there. The one in Houston was just as big but with more items.

Juicy on the other hand had the same 'ol things. The handbag Z forced me to get while we were in Houston that I rejected and got a Kate Spade instead and a pair of sandals I saw a customer wear while I did my short stint at SR.

That customer came a few days before wearing a cotton on checked shirt with a pair of skinny jeans. Around her wrist she carried a Coach wristlet and a pair of slippers. A couple of days later, the same person came wearing the exact same outfit except for her sandals.

This time, instead of a pair of slipper, she was wearing a Juicy Couture platform sandal. I thought it looked good. Knowing that I might be going to L.A. where they've got Juicy, I kept in mind about that sandal.

When I walked passed the shoe rack, I was disappointed I didn't see the sandals. There were a few people standing there and when it was empty, I saw the very sandals I wanted among all the other shoes they've very messily put.

Ape lagik, I attacked that shoe rack and started looking for a pair that fits me. Thank god to my rather huge feet, the only size left was of my size and two sizes bigger!

The pair of sandals wasn't cheap at all and my MIL wants to borrow it when she uses something green. It's green and pink, and no offense, she's over 60 so it looks over the top and not age appropriate for her to use it. Plus I am afraid of anything happening to it.

I tried looking for one on eBay and I didn't find the same one. And though it will spoil eventually, I rather that it be me who spoil it. No one wants to be spoiling my things. I'm a selfish brat and yeah, it's only because when I get disappointed nothing can make me feel better.

See, the thing is. I was SO busy spending every second of my time shopping I didn't have time to take any pictures. The only one I got was at Ontario Mills. After that, my mind was more concerned about shopping than taking pictures.

So here's the ONLY one that I got...


With my bags of shopping. Within an hour I managed to buy: 1 H&M shirt dress, 1 H&M gladiator sandals, 2 Charlotte Rusee sandals, 1 Aero sandals, 2 H&M bikini, 2 pair of H&M tights, 5 Coach bags, and 4 Aero shirts.
At the other mall, I got 3 Kate Spades, 1 Juicy Couture bag, 1 Juicy Couture sandals, 2 more Coach bags (also cheap and wasn't avail at the one in Ontario) and that was it.
A bit too much or not?
Tapi, I yang berkerja keras pasal nak shopping kan?
We ended our day at 9pm and since we had the car and a lil time, Z drove us to Malibu to drive by the beach. If only we were there earlier because the view would have been breathtaking. It was a drive by the Pacific Ocean where we got to see the wave crash on the jetty.
I've never seen a wave as huge as the one I saw in Malibu. The beach houses we drove by got me feeling so jealous coz I'd do anything to live there. (Away from Singapore the better) Who wouldn't want to live by the beach?
Of coz living by the beach we'd be subjected to be the first ones dead from the Tsunami. Nah, I think I'll pick living in Hollywood.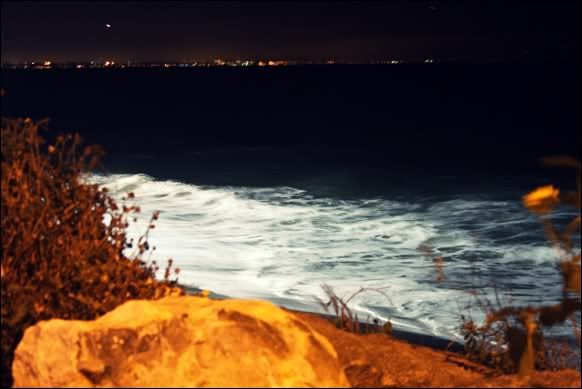 Picture of the waves I got from inside the car.
We drove to Melrose Place and also Rodeo Drive (saw Beverly Hills though I couldn't quite tell where it was since it all looked the same). After over an hour of driving, we stopped by iHop for late supper.
iHop is the place for one of the best pancakes. They're so soft and fluffy unlike the ones sold at McD where it's FLAT and totally not FLUFFY. It's such a pity it wasn't located near our lodge. I'll be having iHop every day.
Our strawberry cheesecake pancakes
VERY NICE ONE! I was too tired to eat them all though so we packed it back kept it in the fridge in our room then heat it up the next morning.
So that was it. I really have only 3 photos. Tomorrow there'll be more though coz we headed to Universal Studios. I know we have it here in Sentosa already, but I don't think the one thing I got to experience there would be the same as the one in Singapore.
Will tell tomorrow, till then, XOXO