Be warned. I have posted almost 70 photos about of the cruise getaway. I tried to cut down on the number of photos but it seems impossible. I have to have them all.

So here goes all the images...and short captions...

If I were to summarize into one sentence how being on a cruise ship is like, I'd say: It is like being in a building that is constantly being hit by an earthquake.

I told Z that and he said, "I wouldn't say it's felt like an earthquake. They're just tremors." Yeah, he got the word right.

Earthquake can destroy homes, tremors don't...I think. If you felt the tremors that hit Singapore several weeks back, that's exactly how it felt like.

While queuing up to get food at the buffet, I could see the plates shaking.

While sitting down with a cuppa water on the table, I could see the water trembling.

While lying down in bed, I could feel the tremors bobbing my head.

All in all, despite feeling slightly lightheaded, I enjoyed my trip. It was nice being able to spend time with Z for three days - exploring every inch of the ship and enjoy our free ice-creams and drinks.

The total cost we had spent for the whole trip was SGD4. If we hadn't sent our clothes to be pressed, it would cost us nothing!

So here are the pictures, starting with out cabin.

Welcome to room 9692!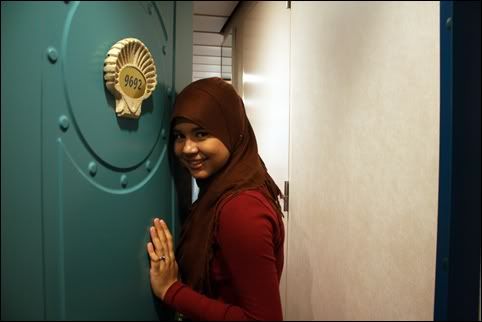 The front door of our cabin was two-third the size of our normal bedroom doors at home. And since our rooms back home are tiny, the small; fit for two adults room didn't make me feel claustrophobic.
We got two single sized beds, a flat screen TV, our very own toilets (that has to be the tiniest toilet with a sink, cubicle and shower squeezed in) and even a balcony that gives us an ocean view.
Turns out, the person who commented about there being no windows in some cabin is right. The rooms opposite ours had no windows at all. Z said it would have felt like being in a jail cell.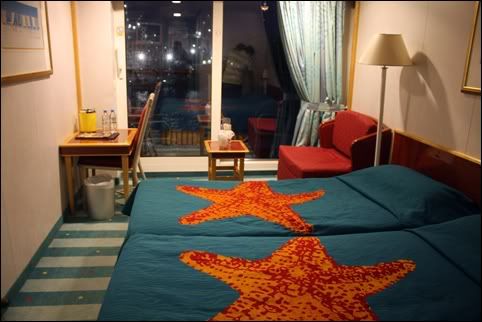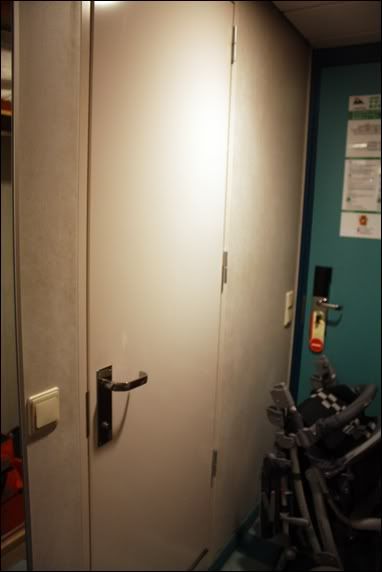 The view we got from our bedroom window before the ship started moving.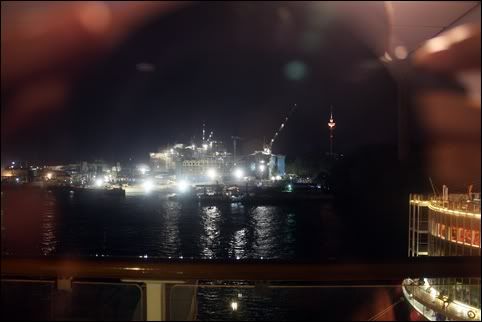 Our balcony in the room. We could open the door and it'll lead to a spacious (again fit for two people only) balcony. There are two chairs and a small little table.
Z and I planned to sit outside late one night but I chickened out coz it was dark and eerier. The water was black and the sky was so dark. The only source of light came from the balcony light and there was no one else beside ships passing by from a distance.
I had a bad dream that occurred in our room (nothing that got to do with us but I "witnessed" it) right beside where I was sleeping the night before so that kinda made me freak out a little. Ok, actually, I freaked out a lot. I asked Z to switch sleeping places and I slept happily without a nightmare.
I rarely have nightmares so this one freaked me out.
To Z: Notice how I keep asking you to hold the door and not close it when I gotta grab something. Well, it's the dream.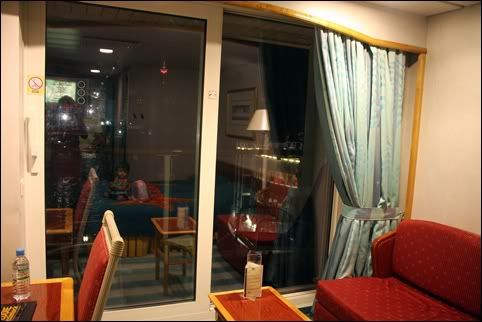 The whole stretch of rooms on the level our room was at. The ship is
THAT
huge. You cannot see who the person at the other end is. It's like the distance of three MRT stations combined together.
Throughout the whole trip,
pantang
when I see a mirror. I had to snap a picture of myself that reflects on the mirror and I did it every time we entered the lift.
That's Day 1. We were going out for dinner at a classy restaurant. The even have a requirement dress code to enter the restaurant. Guys must be wearing covered shoes and collared shirts or t-shirts. No shorts and slippers are allowed.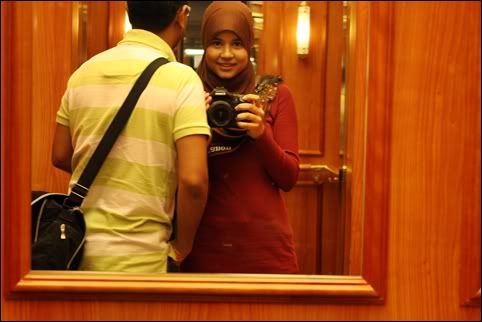 After dinner, Z and I explored the ship. This is on the 12th floor. Yes, you read that right. It's the 12th floor. The swimming pool for adults is located here and they've got a gym, hair salon, library, mahjong room, gelato ice-cream place, disco and so many more.
Staircase for those without prams to use. But the lifts are very fast.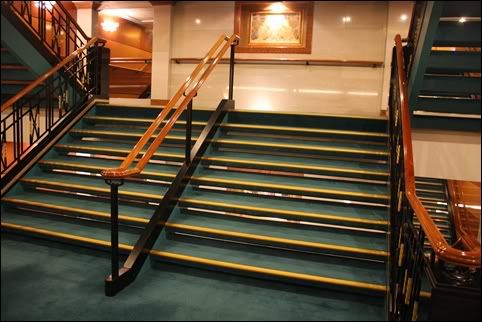 See, what did I say. Here is another one after the meal.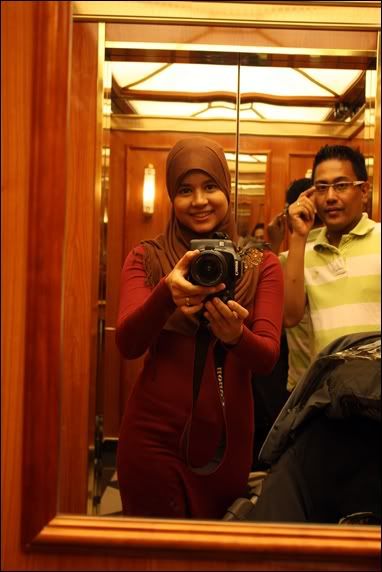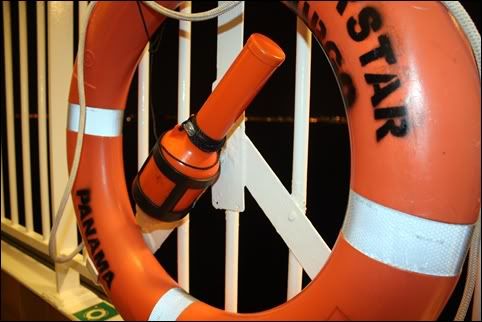 Our view on the 1st night there.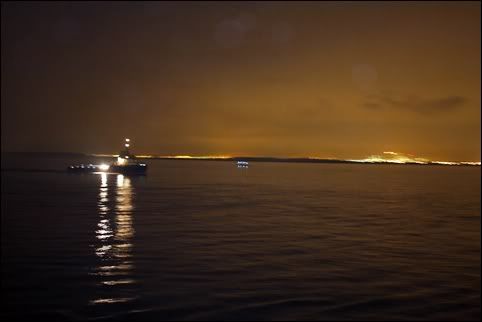 Here is the lobby...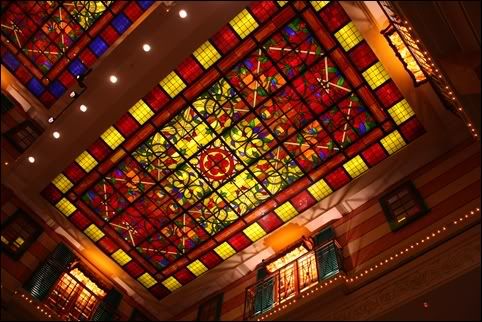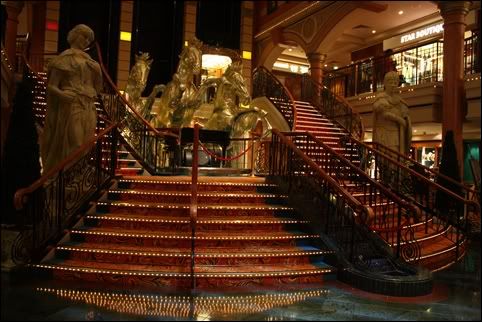 Reception area...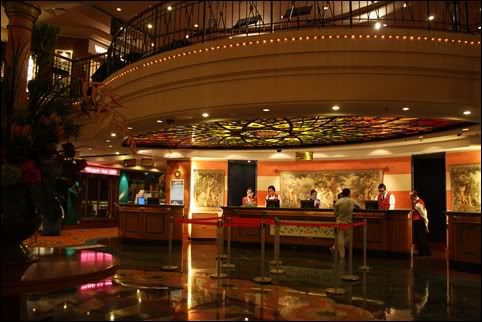 Gorgeous isn't it? It looks like a hotel lobby.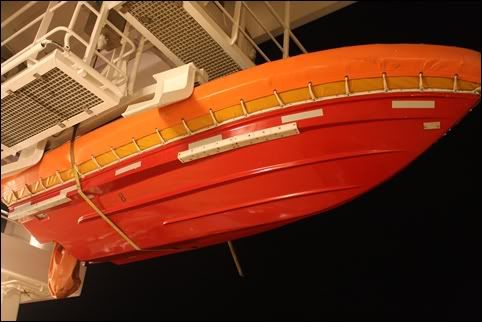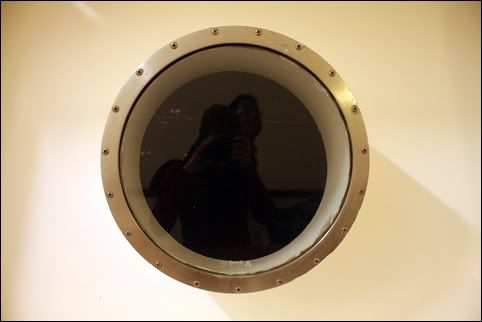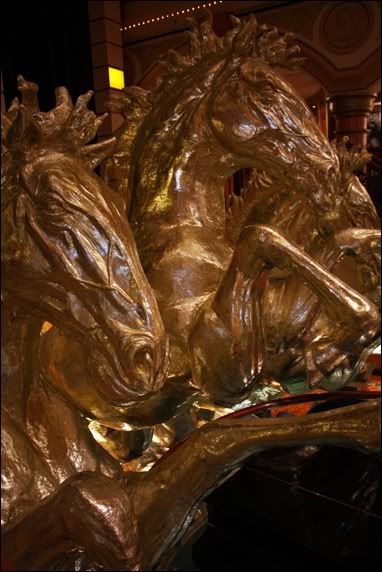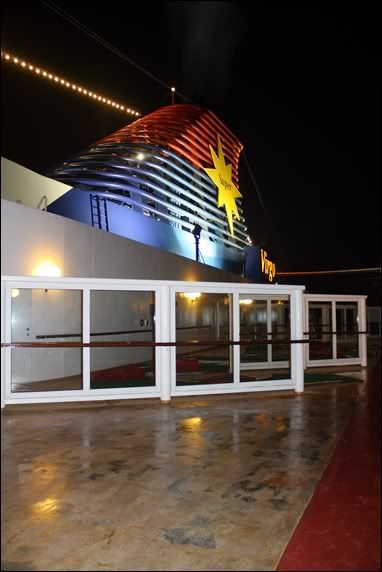 Galaxy of the Stars where there are bands and show. This is also where the BINGO game was held.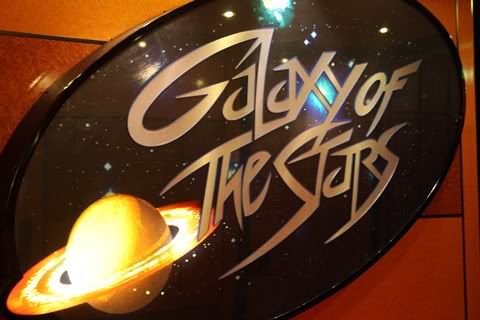 They've also got a library which is poorly stocked but good enough for a ship. They've internet connection there too. It cost 23cents per minute. That's very expensive.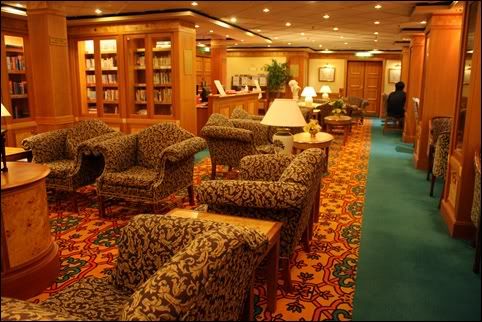 Day 2
Good morning! We woke up bright and early on a Saturday morning. It rained last night but we slept through it without motion sickness. The vast size of the ship didn't make it move madly like how an airplane would have.
Picture below:
Taken at 8 AM in the morning. Wouldn't it be nice to wake up every morning and see the ocean? Of coz, it'd be better if it the sea was crystal clear and blue instead of dirty green.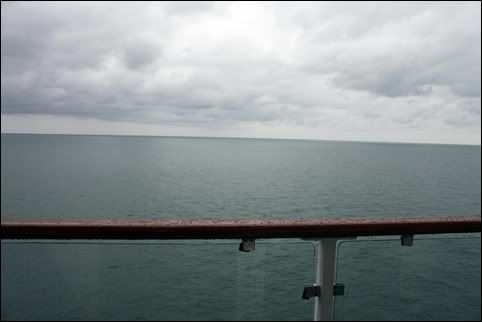 After our Mediterranean breakfast, Z and N went swimming! It was N's first time going for a swim and I was afraid she's scream in fear when we put her in the pool.
When we did, she didn't cry for a bit. It didn't last long though...
When her dad made her sit down, water got into her eyes and she ran to her dad and hugged him. Look at her face. Look at how scared she looks, hugging Z so tightly for comfort.
After a while, Z tried letting go of her.
I love this picture of her. She has her dad's nice naturally neat and beautiful eyebrows, my dad's frown and my large round eyes.
She frowns again...
And she frowns again. My dad frowns perpetually, so do I and so does she.
While taking photos, I asked Z,
Is it ok if I put these online?
And he replied,
But I am so fat!
Well honey, I have photos showing heavier fathers. So, you are not alone...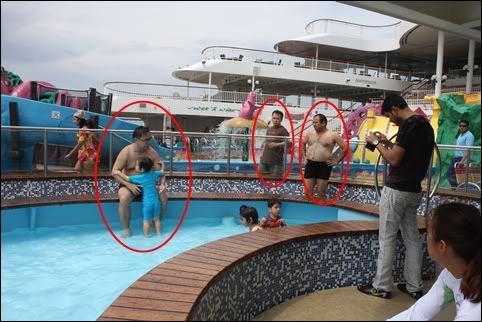 After a while, N warmed up and began splashing the water and having a lot of fun.
Then, she started walking in the pool all by herself. She has been able to walk without aide for quite a while already. She started walking two months ago. She'd walk and fall. Now she's pretty stable but still fall once in a while.
Now that she's found a new talent, she refuses to let us carry her and insist we put her down and allow her to walk. What's cute is that sometimes, after being put down on the ground, she'll stretch her hands out and ask for our fingers so we can walk holding each others hands (and finger).
That is exactly what Z and I have been waiting for.
Father and daughter photo in the pool.
After swimming, we returned back to the room and the both of them took a nap while I went out the balcony and take more photographs, made a cuppa coffee and read a book.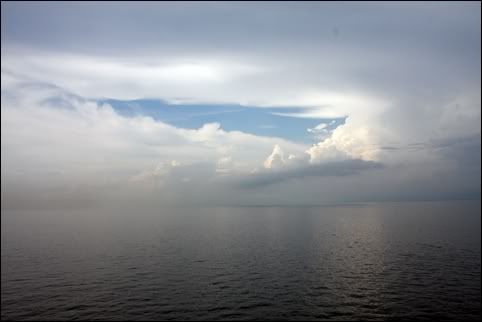 At Galaxy of the Stars and no I'm not barefooted. My shoes are transparent.
Mother and daughter. Do we have any similarities at all besides our eyes?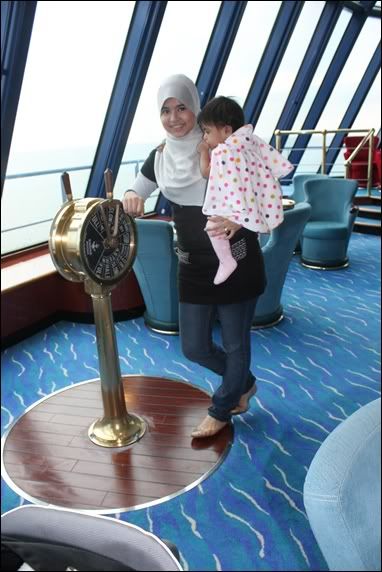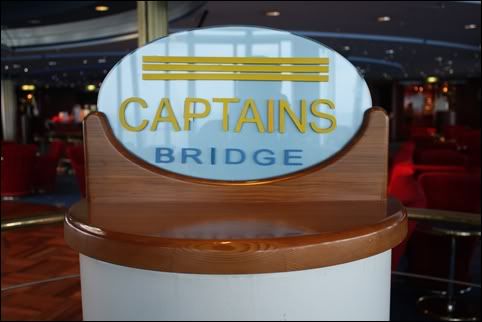 The "cockpit". I got no idea what it's called. Captain's Bridge? This is where the officers navigate the ship. It's a huge place!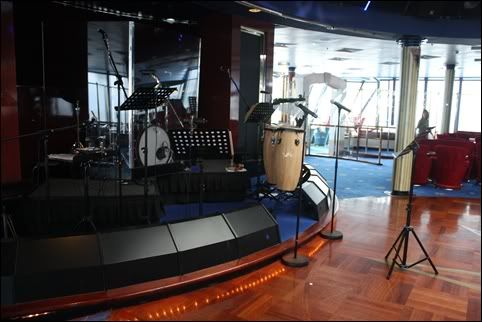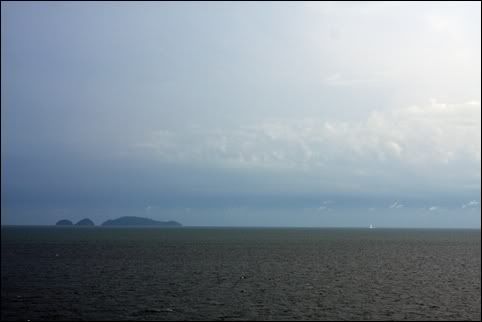 Back in the room to feed her milk. It just crossed my mind that I have been fully breastfeeding her for a year. I told Z that I'd stop and start on formula for her once she turns one. Now that she has turned one, I feel like I can't stop coz I only want the best for her.
Waiting for the sun to set. I was hoping for a nice photo of the sun setting...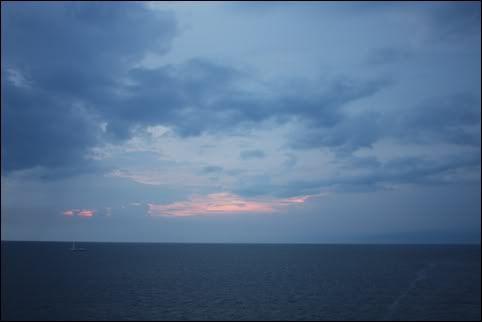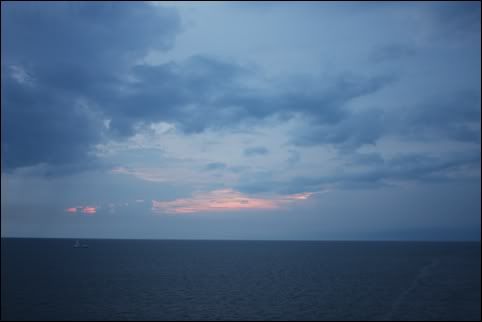 Sadly, it was hidden behind clouds. So I got no beautiful orange sun setting at the end of the sea picture.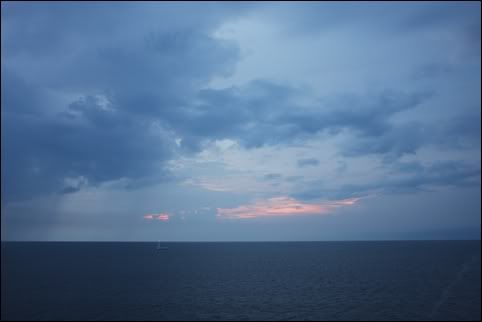 Kiddy's pool overlooking the sea.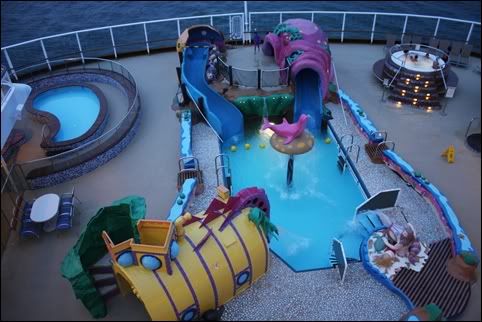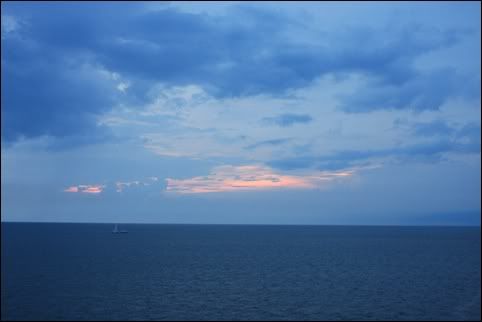 I notice, I look very, very Indian in all photos taken while on the cruise.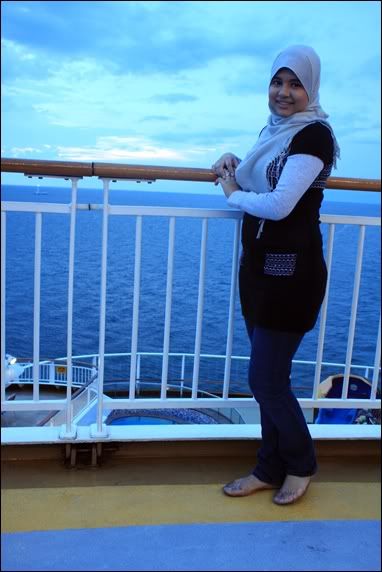 Waterspouts
. A waterspout is an intense columnar vortex (usually appearing as a funnel-shaped cloud) that occurs over a body of water and is connected to a cumuliform cloud. In the common form, it is a non-supercell tornado over water.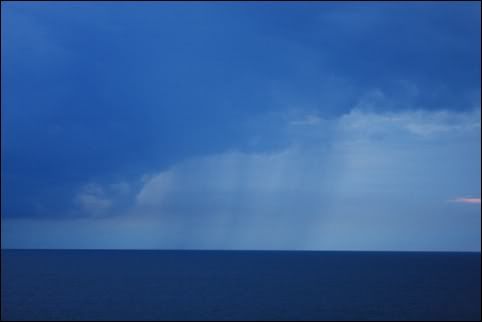 The best picture sunset picture I could snap.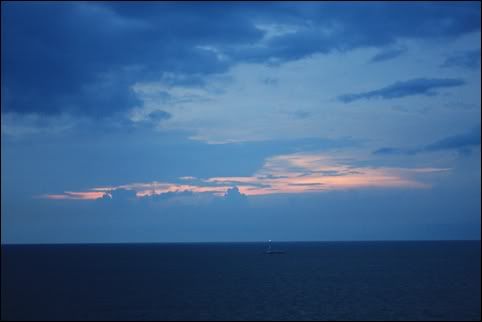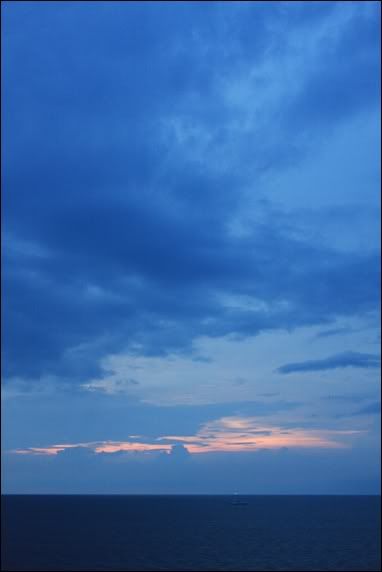 Waterspouts and the sunset in one photo. Not a bad photo.
Although this is blur, I gotta say, it looks like I'm standing in front of a backdrop, eh?
After waiting for a better picture of the sunset, I gave up because well, the sun has stopped setting. Then, there were lightings and Z and I stayed behind for at least 20 minutes for me to snap a picture of the lighting.
Although one of the most deadliest thing ever, I think lightnings are stunning.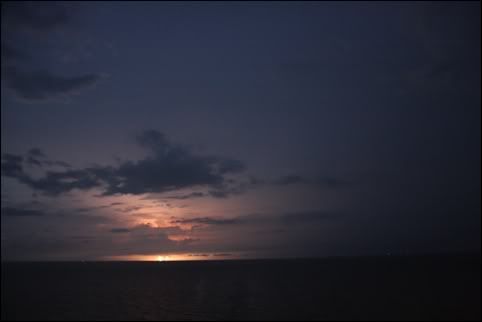 And because light travels really fast and I wasn't sure how to set a my camera to a high shutter speed for taking pictures of lighting, I managed to get a lil part of the lighting that is not so bad for an amateur.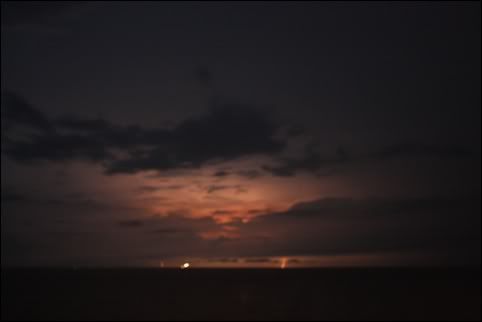 Me and my mother-in-law who turned 63 on the day board the ship and the reason why I agreed to go on the cruise.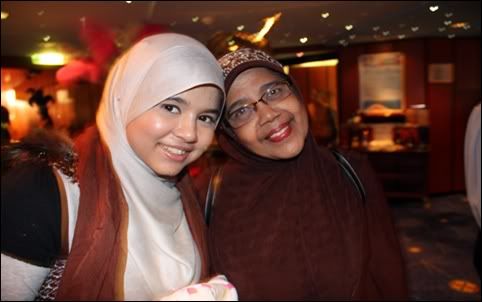 While on board, we ate and we ate and we ate. Lots of good good. Lots of ice-cream. Lots of cold drinks. Lots of tea. Lots of fried food. Lots of everything! Coz it was all for free!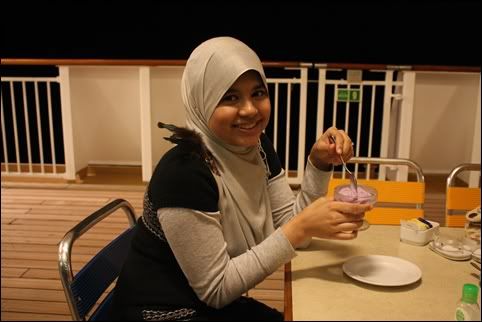 Lighting photo I shot by accident. Love how it turns purple.
Gelato ice-cream and Swenses ice-cream cafe.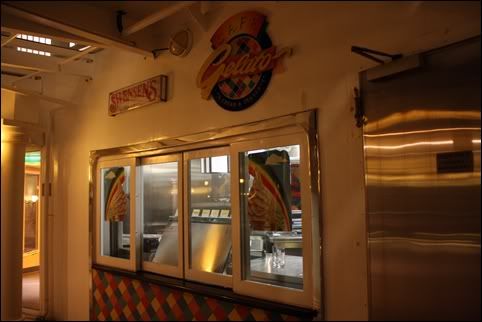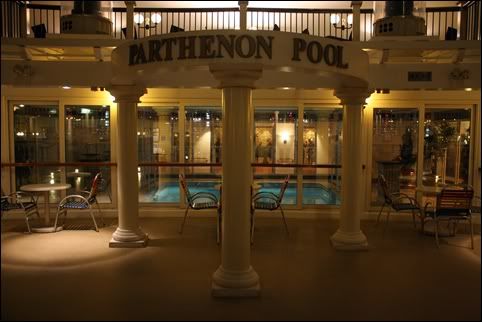 Without setting anything...



When I set the camera...


Without setting the camera...
By the way, this is a photo of a the slide that goes way out of the ship and part of it is transparent that you can see directly out and into the sea.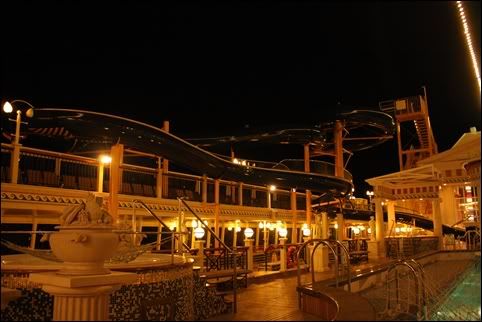 At the Mediterranean buffet.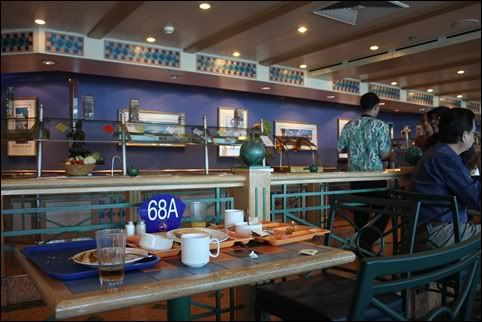 I kinda like this photo of N. Her eyes look like it"s sparkling and she look both happy and angry.
A family photo of US before we left the building and headed back to reality (and N look very very funny).
I'd say...
I am thankful for the whole experience. I loved the fact that I could spend time with my husband eating and not having stress in our minds. Even our parent-in-law didn't want to disturb the both of us.
Actually, they were having fun being at places where
PEOPLE
below the age of 18 couldn't enter. Because we have someone who is 17 years short of being 18, we couldn't enter.
All in all, I was a tad disappointed that there isn't much to do. They had discos, karaoke rooms, bands and shows and a picture house showing movies all for free but they lacked activities for families.
Of coz, if you're a huge fan of gambling, it is a must go. We do not gamble so we don't find the casino an attraction. Though it was nice to be able to see people gamble for my very first time.
I sure am glad it was my MIL's birthday. If not, I would still have rejected the offer. It wasn't as scary as I thought it would be.
One problem though. My hands shivered without internet and phone connection for two days. Really.